The Drive Towards Playoffs
What it's like being a student athlete during playoffs.
As playoff season is coming up, the stress to be the best is affecting players all around Garfield. This school has a legacy for being successful in sports. The athletes will push themselves to succeed and continue said legacy, despite all the other stressors that get in their way.
The girls swim team is striving to show others the great feats they can accomplish. The girls are creating bonds and a supportive community on their journey towards metros, districts and eventually state. Senior, Olivia Neumark, has been on swim team since her freshman year. 
"I'm the captain this year, so it's really great to see how the team has changed over time," Neumark said. "Every year we get faster." 
This year some girls have already qualified for metros and districts, while a few have even qualified for state. All of this success comes from continued and consistent hard work. The coaches hold extra practices after school, in addition to 6:45 to 8:00 AM practices. The athletes weight-train and condition to ensure they are in the best possible physical condition for metro championships on October 26 and 27.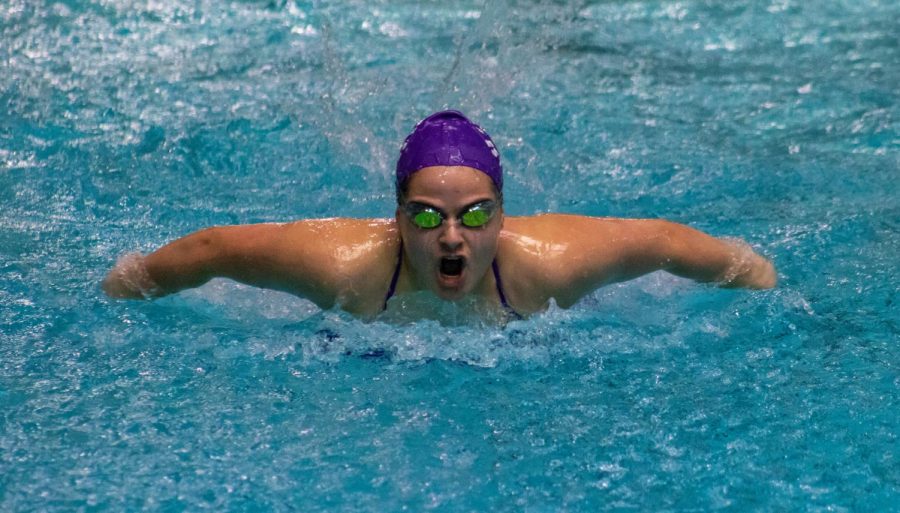 Photo by Jefferson Ashby
The swim team doesn't just pride themselves on their determination.They also have an exemplary team community. If you're a part of the swim team, no matter your speed, you're welcomed into this tight-knit community of girls. They hold team dinners and believe a working team dynamic leads to a successful team. This brings a feeling of support to the girls as they push their limits. 
"You definitely have weeks where you're like, 'I can't get up. I'm so tired. There's so much going on'" Neumark said, "But that's something that's great about being on a team, there's other people going through the same thing, they can help you and you're not alone."
Volleyball follows the Garfield code: never letting team challenges and personal stressors get in the way of their playing. They never let the net get in the way of their spikes. The team works hard to make sure the chemistry between players is compatible. While there are three distinct teams, the players constantly scrimmage each other during practice. However, as the playoff season pressure comes around again, sometimes the team has to choose if they want good team chemistry or a winning, competitive team. 
"Towards the end of the season when it's playoff, we get more intense, you can tell. The whole team wants to go to state," said Umoya Mckinney, a volleyball captain.
 Mckinney explained that the dynamic of the team changes between league playing and playoff season. The grind doesn't stop for volleyball. Morning practices and almost nightly games can be difficult for many players to handle. Mckinney believes morning practices benefit the team because they aid those who have other responsibilities in their life besides sports.
"Morning practice is difficult but it's good for time management after school. If we got out of school later, we would get out of practice later and people have jobs and homework." Mckinney said. 
But Mckinney reminds us of the plus side of being an athlete on the volleyball team, "We always bulldog out at the end of practices, we all come together".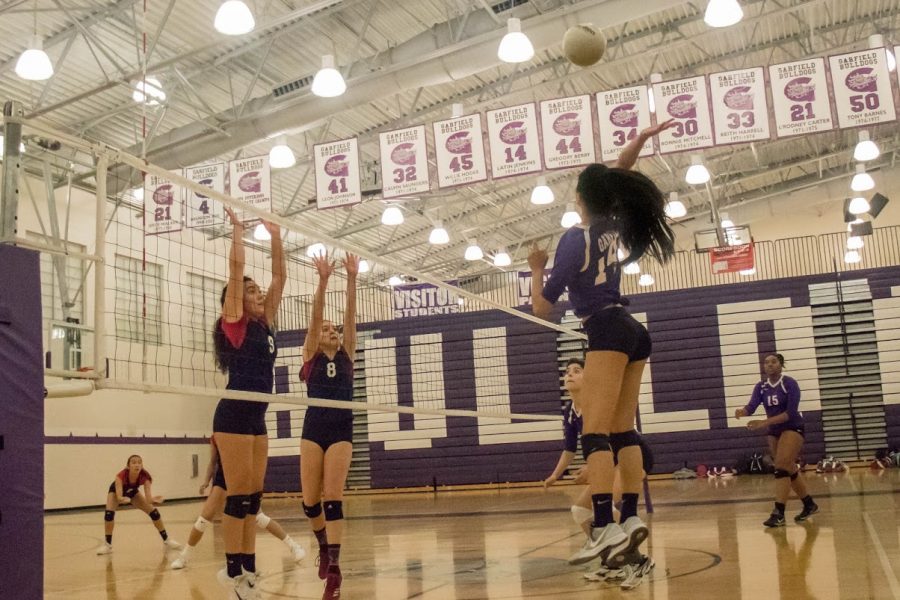 Photo by Jefferson Ashby
To describe Garfield sports in one word it would be rigorous. The girls soccer team is an excellent example of that. 
"School soccer starts really suddenly and really intensely," said varsity captain Sophia Balaski. "The first day you walk on the field it's hard work."
Although the team only wakes up at 5 in the morning on Fridays, unlike swim, volleyball, or football, the team has after school practices that are incredibly draining.
"For me personally, there is a big drain of energy. I wake up and go to school, soccer, homework and then crash," Balaski said. "I think it's the same for a lot of people… It's difficult with the late end time to get home so late from practice. And it's day, after day, after day." 
A short season and a highly competitive sport could lead to a dysfunctional team. However, girls soccer will prove you wrong. Despite newcomers on the team this year, there is lots of diversity amongst classes on varsity.
 "When we need to be focused and when we need to be competitive it's there, but it's also a very light environment," Balaski said. "People are joking around and it's a lot of fun."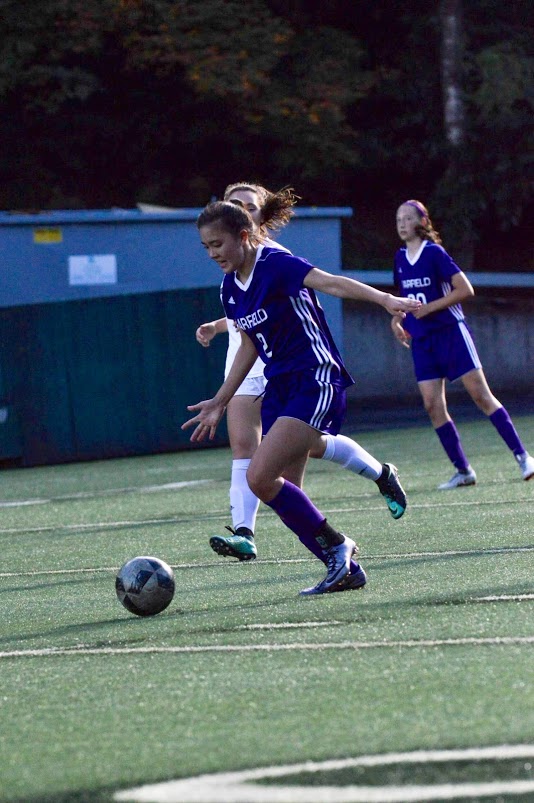 Photo by Sam Boyar
Just like soccer, football players feel it's difficult to balance stress and the competitive sport. The athletes on the football team feel a lot of pressure. Besides placing third in state last year, these athletes have to balance many other tasks. 
"You have to be dialed into another level, especially with school work. People might not be able to play because they're not doing well in school," said junior linebacker, Sam Treat.
 With new graduation requirements and stresses, players can get caught up with football and focus less on their studies. To try to resolve this problem, the team holds after school study halls. Thanks to efforts like running back Aereck Savelio, the football team's average gpa has raised to 3.27 in 2018. 
"Football is an extra thing for me… graduating and going to college is number one…football isn't always going to be there for everyone" Savelio said.
Although there can be constant competition between players, the boys all get along pretty well and know how to have a good time. 
"There's a lot of team bonding, not just planned team bonding but like when we get good music going and we're dancing together in the locker room. We're always messing around," Treat said. 
When it's time to get to work, the football players have no problem changing their mindset. The players study previous game plans and scout out the ability of the opposing team. Before going into a game, they need to know their competitions' strengths, faults, and their principal players. This is all in the upward climb towards playoffs that athletes must face. 
"Playoffs is like everything but doubled down. If you don't win you're out." Treat said. "It's really a playoff push when it comes to playoff preparation."