A Legend in the Making
Sophomore Legend Smiley steals the court.
From the moment he stepped onto the court, Legend Smiley was destined to be – well, a legend.
Smiley's dad, Roydell Smiley, was a co-coach for the Girl's Varsity team this past season. He is also a Garfield alumni who played for the team back in 2000. Both Legend and his sister Star have continued the family tradition of bringing home wins for the Bulldogs. "I got into [basketball] when I was like five years old, from my dad. He played, so I always wanted to play," Smiley said. "For like the first few weeks I wasn't that good, but I've been a stand-out player ever since."
His freshman year of highschool, Legend's talent and drive were noticed, and he was placed on the varsity team. But even as the only freshman, Smiley never felt like an outsider on the team. "It wasn't weird at all because I grew up with most of them," he said. "Then we got to highschool and we all played together again. Unfortunately we didn't win State that year – we should have though." This year, there were no regrets in the State Championship. The 61-50 semi-final victory against Auburn was a sweet revenge after last year's quarter-final knockout, and in the State Final against O'dea, the team left everything out on the court. To finish out his sophomore season, Smiley scored a total of 30 points; nearly half of the team's overall score.
SBLive recognized the vital role he played in securing the State Champ title, nominating him for the National Boys Basketball Player of the Week. With 16,428 votes (52.4% of all votes cast), Smiley secured the award. Colleges have caught on to his talent as well. Several schools, including University of Washington and Seattle University, have offered him spots on their teams. He's still waiting to see if his dream colleges – Duke, Kentucky, and North Carolina – will provide the same opportunities. With two years of high school left, there's still plenty of time for his aspirations to be realized. In the meantime, he plans to dominate in the AAU Seattle Rotary, a club basketball team which he's been playing on for years.
Moving into next year, fans of Garfield basketball are concerned about the overwhelming majority of seniors that made up the team this season. The coaches will have their work cut out for them as they shuffle and rebuild the roster heading into Legend's third year, but he isn't fazed. "I think the Garfield team will be back and loaded next year, coming to win back to back State Championships."
Leave a Comment
About the Contributor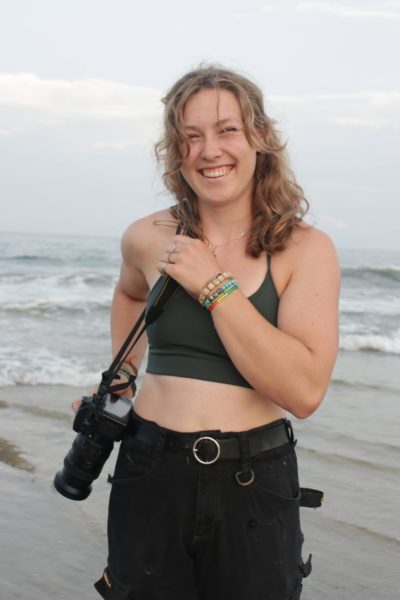 Ali Merz (she/her), NFO Editor
Ali Merz is a Senior at Garfield, and this is her second year on the Messenger.

She loves playing on the Garfield Soccer Team, climbing on Edgeworks...