Seattle Artists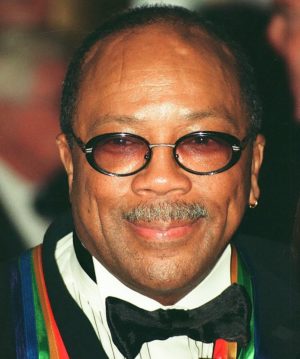 Around Garfield you might hear the question "What does Quincy Jones even do?" A more appropriate question might be "What doesn't he do?" A native of Chicago, Jones spent much of his childhood in Bremerton and Seattle, attending and graduating from Garfield High School. At fourteen, he introduced himself to pianist Ray Charles, and quickly began playing trumpet, arranging, and performing as part of the then-thriving Seattle jazz scene. In his twenties, he toured America and Europe with major groups like the Lionel Hampton orchestra, before going into the music business in the 1960s. His golden touch extended to this side of music, too. Before long, he had composed for dozens of movies, produced countless albums (including the best-selling album of all time, Michael Jackson's Thriller!), and launched his own recording company, Qwest Entertainment. His accomplishments are so great and varied that when Barack Obama was inaugurated as president in 2008, some suggested that a cabinet position of Secretary of Culture be created specifically for him. Now at the age of eighty-eight, Jones has relaxed his creative output slightly, but is still a fixture of the many genres of music that he has contributed so much to.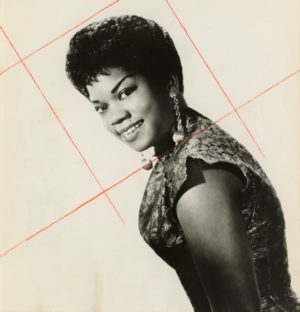 A list of famous Black Garfield alumni would not be complete without the late jazz singer Ernestine Anderson. Born in Houston, Texas, Anderson moved to Seattle at sixteen, where her talents were quickly discovered by local musicians; her first gig was at the Washington Social Club on Madison Street. As a teenager in the Central District, she regularly performed with a band whose members included Quincy Jones in the Jackson Street jazz clubs. After graduating from Garfield and leaving Seattle, she toured and recorded with big bands like Johnny Otis and Lionel Hampton's groups across the United States and Europe. After a decline in jazz's popularity during the 1960s due to the emergence of rock and roll, her music made a big resurgence starting in 1976 after an electrifying performance she gave at the Concord Jazz Festival in California. Her career continued for decades. She headlined jazz festivals all over the world and was even nominated for four Grammy awards. In 1993, she signed to her high school friend Quincy Jones' record label, Qwest. After a long, trailblazing life, she passed away in 2016 at the age of eighty-seven.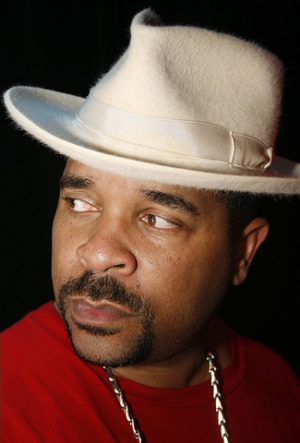 Anthony Ray, better known by his stage name Sir Mix-a-Lot, was born in Auburn, Washington in 1963, but grew up in Seattle's Central District. Although he lived only half a mile from Garfield, Sir Mix-a-Lot attended Roosevelt High School as a part of the Seattle Public School District's attempt to integrate schools. While many were in opposition to the busing program, Sir Mix-a-Lot felt differently. "[My family] didn't make that kind of money. So from my perspective, it was the best thing that could have happened to me," Sir Mix-a-Lot said about Roosevelt in an interview with NPR in 2013. Following high school, he performed regularly at local venues such as the Rainier Vista Boys and Girls Club and the Rotary Boys and Girls Club. After gaining popularity for his song "Square Dance Rap," Sir Mix-a-Lot began touring the country before releasing his next big hit, "Posse on Broadway," a reference to Broadway in Seattle's Capitol Hill neighborhood. In 1992, Sir Mix-a-Lot's renowned single "Baby Got Back" topped charts, holding the number one spot for five weeks and selling over 2.4 million copies. Now, Sir Mix-a-Lot hosts his own renovation show, Sir Mix-a-Lot's House Remix, and works with the Seattle-based organization Keep Music Live.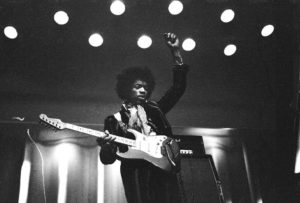 Legendary guitarist Jimi Hendrix began playing music in Seattle at an early age and attended Garfield for a year before dropping out in 1959 to join the U.S. Army. Guitar served as a retreat for Hendrix during his time in the military. When he was discharged, he started a band called The Velvetones. In the 1960s, Hendrix moved around the U.S. and Europe, gaining traction in his career. Hendrix returned to Garfield in 1968 and gave a speech in front of students. Despite Hendrix's only four year long professional career, his impact has extended long past his death. Hendrix gained acclaim for his exciting experimental sound and was inducted into the Rock and Roll Hall of Fame in 1992. He is best known for songs such as "Purple Haze" and electrifying performances like his 1969 Woodstock rendition of the American national anthem. According to Rolling Stone magazine, Hendrix is the best electric guitarist of all time.
Leave a Comment