Heart to Hart
Exploring the mind and motives of Garfield's new principal, Dr. Tarance Hart.
Introducing Garfield's newest long-term principal, Dr. Tarance Hart, here from Jackson, Mississippi. He goes by Dr. Hart, Mr. Hart, or T-Hart.
In high school, T-Hart was a self-proclaimed, "nerd" and "homebody." He lived up to the educational and social expectations of his family. He was even editor of his high school newspaper, The Hoof Beat. 
Hart found time to immerse himself in pop culture, especially music. He developed a love for 80's pop and R&B. To this day he listens to both old school music and explores modern, alternative R&B and jazz. 
"I'll get on Spotify and just listen to random artists and see who else is suggested, and that's how I find new music," said Hart.
Hart loves a good scare. Horror and thriller are his favorite genres of movies, but you can also find him binging true crime documentaries, specifically series that focus on serial killers.
If he could be bribed with anything, it would be pancakes. Hart's vegan lifestyle does not get in the way of his major sweet tooth. He loves tofu for its versatility but won't turn down a good vegan hamburger or pizza.
A few years ago, he developed a passion for fitness and running. Outside of that, Hart enjoys the simple things: joking with his friends and playing cards.
A highly educated man, Hart attended Millsaps College for his bachelor's degree in Business Administration, Belhaven University for his master's, and Jackson State University for his doctorate. He is proud to be an alumni of Jackson State, a Historically Black University (HBCU) with a rich cultural history.
After college, Hart worked as a contract analyst for an aerospace company that serviced military aircrafts. 
"And I was miserable, I hated every single moment of it," Hart said.
Luckily, he soon found his spark for teaching after attending a meeting from an organization called Teach for America. There was a need for equity in classrooms and more teachers that looked like him. Hart saw this and said, "I need to pursue what has been planted in me, which was education." 
He got his teaching certificates and worked in his own classroom for twelve years before working with the Mississippi Board of Education for several years after that. There, he sought to better the education system through teacher and administration training.
However, this wasn't the end: he asked himself what he wanted to do for the rest of his life. His answer was to lead a school, and that is how he found his way to Seattle. 
Hart found adjusting to Seattle to be a refreshing change and quickly noticed all the cultural and demographic differences. Despite that, he has come to learn one big lesson which is, 
"People are the same no matter where you are." 
Hart appreciates the Garfield community for its strength and diversity. 
"It's wonderful to see students from all different walks of life, all different ethnicities, all different life experiences, all coming together to one place," Hart said.
The Garfield community has a legacy of being passionate about social justice and Hart loves to see it because of his passion for equity in schools. 
"All students regardless of any circumstances, everyone deserves an opportunity to have a high quality education," Hart said. Amidst the Black Lives Matter movement and other social justice efforts, Hart believes the timing is right to make necessary changes for the better.
Hart has his own ideas to lead, but expressed his respect for the willpower from the Garfield community. 
"I think that students and staff here don't seem reluctant to express their opinions and to provide input and feedback, and that's a good thing," Hart said.
Naturally, he has goals in mind for the improvement of Garfield. He is very excited to work on revising the student and teacher handbooks to make them reflective of the whole community.
"I'm looking at instructional practices and ensuring they are culturally responsive and make students feel included," Hart said. He is focused on setting expectations to build on for the future. 
He leaves us with what he wants everyone to know about him and his plans for the future of Garfield. 
"I am here because I believe that Garfield is a great school, it has a lot to offer and it's a great example of how diversity can look in a school. I want to collaborate with the whole community to make Garfield the best school it can be."
Leave a Comment
About the Contributor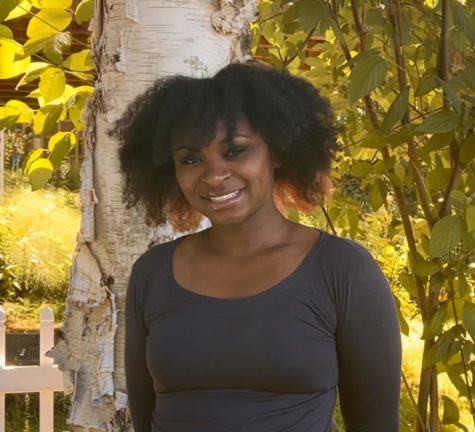 Lakelle Bridges, Managing Editor
Lakelle Bridges is a senior at Garfield High School. After spending two years as a writer on staff she is now excited to be serving as a Managing Editor...