Mask Misrepresentation
All college athletes should be required to mask-up.
Over a year after Washington State's COVID-19 lockdown, WIAA high school athletics have resumed for the first season. Seattle Public Schools has taken on the safety recommendations of both Governor Inslee and the Center for Disease Control in this endeavor and has made the decision to also enforce stricter rules, including no spectators at any sporting events. High school athletes are additionally required to mask up, socially distance as much as possible, and are only able to compete against a subset of the total number of teams in their leagues – roughly one-third of the number of games in an average season. However, college-level athletes are playing longer seasons and in many cases, with spectators and without masks. 
The NCAA has left the decision of whether or not to require masks to each individual school's athletic program. For example, the majority of women's volleyball programs in the NCAA have chosen to wear masks in-game, and the majority of men's basketball programs have chosen not to require them during play. Masking is also not required on the sidelines; it is recommended. The NCAA has additionally advised for six feet of space between the chairs that act as the team's bench, but this is evidently not practiced, as can be seen in the recordings of games. This partial attempt at following guidelines is dangerous and sets a poor example for other athletic programs.
According to the Kaiser Family Foundation, 73 percent of children see professional athletes as people they "look up to" or "want to be like." Although college athletes are not professional athletes, many of them are on track for careers in that realm. Current COVID-19 rates in the United States have the age range of 18-29 making up roughly 22.5 percent of total cases, the most of any age demographic. However, people of this age account for less than 0.5 percent of mortalities. College-age individuals infect those most vulnerable without facing the severe consequences of life-time ailment and death.
While the NCAA has attempted to conduct contact tracing, this has been relatively inaccurate and unsuccessful for privacy reasons. The Duke University Blue Devils, one of the powerhouse teams of the NCAA Basketball Tournament, was knocked out due to a positive COVID-19 test on March 11th. The identity of the test-taker is unknown, and there is no evidence of an outbreak in the program. While there is still a chance for Duke to continue play, both coach Mike Kryzewski and Duke Athletic Director Kevin White have stated that this recent game cancellation will end their season. Programs have virtually no way to hold their athletes accountable for their commitment to sports, and other activities such as parties and unofficial matches cannot be regulated at all. A COVID-19 outbreak last year on both college men's and women's soccer teams in Chicago resulted in positive tests from 17 players. Although tested at the beginning of their seasons, the athletes were not required to test again and were trusted to adhere to the participation guidelines. The initial contact was made through attendance at a birthday party. 
Some sort of effort is clearly being made by college-level athletics to reduce the spread of the virus. Still, athletes on the sidelines of games often get up from their seats to talk to their teammates, wear their masks improperly, or do not wear them at all. There is simply no finite strategy that holds collegiate athletes accountable without mask regulation. Giving participants the option to not wear a mask will always result in someone doing just that. Children watching these games see the players that they look up to wearing their masks below their noses and think that is alright.
No one wants to put their loved ones at risk of contracting the virus. College-age athletes need to realize that they set an example for younger players, who, as they return to in-person school, put their own loved ones at risk just by attending class. It is a privilege to have the opportunity to play a sport past high school, and an even greater one during a pandemic. The players and coaches who are part of the NCAA should recognize this privilege by wearing their masks correctly, whether on the sidelines or on the court, and truly social distancing. College athletes are not the only ones who suffer the consequences of their decisions; their choices also affect everyone who watches them.
View Comments (1)
About the Contributor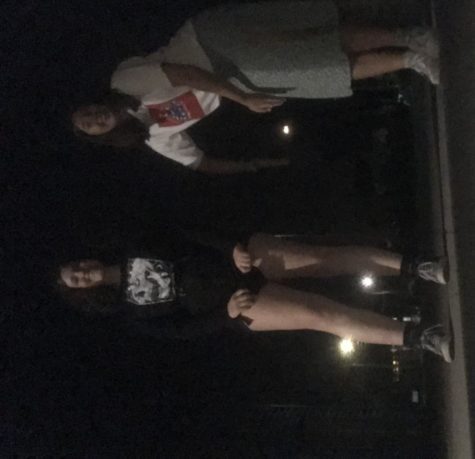 Autumn Henson, NFO Editor
Autumn is a senior this year and a News, Feature and Opinion editor on The Messenger. She has a passion for research-oriented, informative writing and...