(Taylor's Version)
A break down of the purpose behind Taylor Swifts latest album, Fearless (Taylor's Version).
After dropping two surprise albums in the span of five months, fans expected Taylor Swift to go on a music hiatus… until she announced Fearless (Taylor's Version) would be coming on April 9th (announced in the capitalized letters of a statement regarding her re-recording process for Fearless).
To some this came with confusion: why did she release a re-recording of songs from her 2008 album, Fearless? This is the first of six albums she has planned to re-record and release because of a label dispute. 
As a 15-year-old breaking into the music industry, Taylor Swift signed on to Big Machine Records, giving them ownership of all the music she made under them. In 2018 her contract with them ended and she moved to Universal Music Group, a record label that allowed her to own her music under them. Problems arose when her previous label, Big Machine Records, sold–without her knowledge–all of her masters (original recordings) from her first six albums made under them to Scooter Braun, someone who had been at odds with Swift in the past– ridiculing her career and taking part in Kanye West's jabs at Swift. 
Since Braun now owned these masters, he could control when or how the songs were used. Allegedly, he was preventing her from performing some of these old songs at the American Music Awards in 2019, and prevented her from using old songs in her Netflix documentary, Miss Americana.
After November of 2020, Swift regained her rights to use the songs (the contract with Big Machine stated she could replicate the songs a year after they were sold). Since then, she has begun re-recording each of her first six albums that came out under Big Machine Records. Since she owns the lyrics and is now able to replicate the songs, she will be able to own her old music once each album is re-released.
"Artists should own their music for so many reasons, but the most screamingly obvious one is that the artist is the only one who really *knows* that body of work," Swift said in an Instagram post detailing the situation.
She also said she has taken a lot from the experience of going back in time to recreate the songs she wrote when she was decades younger and has been able to reflect on her self-growth. This could be an explanation for the "Taylor's Version" album cover, in which she is wearing Romeo's shirt from the Love Story music video, signifying that she no longer needs Romeo to save her, as she has become her own savior.
"This process has been even more fulfilling and emotional than I could've imagined and has made me even more determined to re-record all of my music," she wrote in the same Instagram post.
Swift has also re-created these tracks to allow fans to support her right to own her music by playing the "Taylor's Versions" instead of the original versions in order to prevent Scooter Braun from making more money off her work.
In her first and latest "Taylor's Version" album release, she also included six songs "From the Vault" (songs written for the album but didn't make the final cut). These bonus songs have added a surprise element to her re-recording process, and an incentive to listen to her version of the album by getting to take in even more of what she was creating at the time.
Throughout her efforts to become an artist who owns all of their music, Swift has also been able to use her experience to help give a voice to small (and big) artists everywhere. Her refusal to give up the fight for ownership of her music has opened up the conversation around how artists and music labels should work together. 
"I feel very strongly that sharing what is happening to me could change the awareness level for other artists and potentially help them avoid a similar fate," Swift said.
With Fearless (Taylor's Version) having the biggest country album the first week of the last six years and becoming the top release of 2021, Swift's re-recordings have exceeded expectations so far and have proven her dedication to the ownership of her music to be a renowned comeback from her wrongful loss at the hands of Braun and Big Machine Records.
Leave a Comment
About the Writer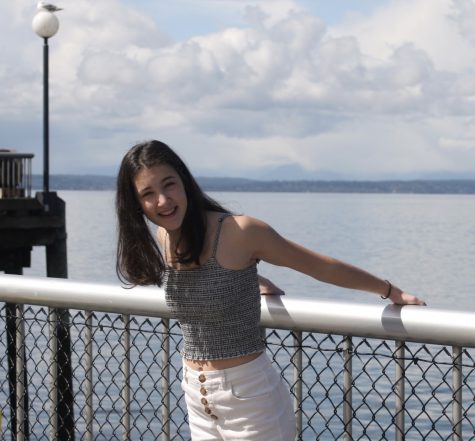 Julia Wartman, Staff
Julia Wartman is a senior at Garfield and a writer on the Messenger.  She spends most of her time aside from school figure skating and training for the...