The New Princess of the Castle
Princess Shareef is coronated as Garfield's new interim principal.
How is our proud Garfield community going to grow this year? Will virtual learning disconnect the students, educators, and administrators completely?
As we say goodbye to former Principal Howard, Garfield welcomes our new interim principal and Seattle native, Princess Shareef. 
Shareef is a retired administrator who has worked in schools across Seattle since 1974. 
She started off as a teacher, then a counselor, but after working in many schools in Seattle Public Schools,  "…became disenchanted when I worked in a school with, what I felt, was ineffective leadership. I really thought I could do a better job," Shareef said. 
"My final assignment, before I "retired" was to rebuild Cleveland High School. That was some of my most difficult yet most satisfying work," she said.
While working as Principal of Cleveland High School, Shareef won the UCEA (University Council for Educational Administration) Excellence in Educational Leadership Award in 2010 from the University of Washington, and built the STEM program that sets Cleveland apart from other SPS high schools. 
Since retiring, Shareef has worked to support schools like Queen Anne Elementary and Rainier Beach High School. 
Shareef then agreed to come to Garfield when remote learning for the 2020-2021 year was announced. She felt that Garfield needed a temporary leader during this time of abrupt change. 
"It's a hard thing to follow a leader who had been working in the GHS community for so long, and many leaders didn't want to take up that challenge," Shareef said. "I only came forward because I believed I could support the community during this transition."
A natural leader and administrator, Shareef has always felt passionate about the education of young people. She defines herself as a quiet and persistent leader. 
"I'm a woman of few words, but I hope they are thoughtful ones," she said.  "Most often, my strategy is to listen to stakeholder voices before making a decision, but once it's made, it's made."
She loves to cook, and her best food is made with music blaring in the background. Shareef enjoys writing and brings light and humor to her life, often using sarcasm. 
Shareef wants to bring a sense of strength to Garfield, building upon the work already started by past administrators like Mr. Howard.  
"[I want to continue] the work teachers are doing in order to create curriculum accessible to each student, the anti-racist work of the Racial Equity Team, the efforts to engage families, and continue to support the data team as they work to create relevant data to support students," Shareef said.  
While she can't be in the building with the students, Shareef aims to listen to all of Garfield's needs. 
"This is a most difficult year. Because of this virtual experience, I haven't had the opportunity to truly get to know students and staff and that is my biggest challenge," She said "It's taking me longer to understand what the community needs, and how to address concerns but I'm getting a lot of help from GHS staff, parents and community partners." 
While classrooms can't be the same as they once were, the best thing students can do is be as enthusiastic as possible.
"I know your teachers try to encourage you each day; trying to set up a situation where each of you can connect to the learning," Shareef said. "Please understand they are learning how to do this virtual thing too." 
To get the best possible education during this time, students must advocate for themselves. Teachers will be understanding of any setbacks or challenges students are facing in their learning. 
"Now, more than ever you have to step up. If no one is telling you what to do, if no one sees what you are doing, what decisions are you going to make? What decisions are best for you?" Shareef said. 
As students have stopped physically attending Garfield, many have lost their second home. Now is a great time for students to reach out to counselors and administrators about any type of support they need. 
"I trust that you all will be thoughtful about what is best for your future. I know immediate things are right in your face. My family needs this from me, my friends need this from me; please ask yourself what do I need and [know that] even though we're not in the building there are people who can support you," said Shareef. 
Staff all around Garfield miss talking with and seeing every student's faces, so don't be afraid to call the main office or email your counselor.
"Don't hesitate to reach out. We can get through this, together," said Shareef. "One Garfield.
View Comments (1)
About the Writer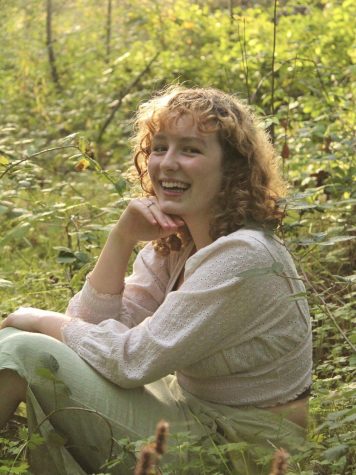 Izzy Lamola, Staff
Izzy Lamola is a senior writer on The Garfield Messenger. They love InDesign, despite the tedious work, and is a lover of opinion pieces and op-eds. They...