Spooky Scary Social Distancing
How traditional Halloween activities are changing because of COVID-19.
This year, trick or treaters are expected to wear a different kind of mask. According to Gov. Jay Inslee, COVID-19 cases in Washington are continuing to rise. Despite the virus, businesses and families are looking for ways to enjoy Halloween festivities.
The CDC and the Washington Department of Health strongly recommend against traditional door-to-door trick-or-treating, "trunk-or-treat", crowded indoor parties and haunted houses. 
The Washington Department of Health advises that if you do choose to trick or treat, to stick with members of your household, stay six feet away from others, wear a non-costume face mask, and bring hand sanitizer. 
Keeping celebrations at home is also recommended by the CDC. At-home activities are ranked as low risk. Some suggestions include decorating your home, carving pumpkins with members of your household, and admiring neighborhood Halloween decorations from a distance.
While many things will be different this year, the true joy of Halloween comes from having fun with loved ones. Businesses are adapting so everyone can have a good time while staying safe. The Georgetown Morgue Haunted House is open this year with COVID-19 precautions and social distancing guidelines. Their website's COVID Policy states that the Georgetown Morgue explains that they are switching to self-guided, no-touch tours of the haunted house and that it's required for everyone to wear a mask and social distance. The Carpintino Brothers Pumpkin Patch, Corn Maze, and Farm Fun Yard in Kent are also open this year. According to their website, Carpintino Brothers is promoting social distancing measures, requiring masks, and following all Phase 2 health and safety guidelines. They ask that anyone who is sick or has been exposed to COVID-19 stay at home and for groups to remain six feet apart. 
Tasia Tran, a junior at Garfield, recently visited the Carpintino Brothers Pumpkin Patch. According to Tran, the only time the "six feet apart" social distancing guideline was strictly followed was when customers got their pumpkins weighed by employees. Tran says she felt safe because she mostly stayed around her family. However, she was a bit overwhelmed by the large crowds, noticing that many people had their masks off or pulled down while around others.
Tran says her favorite parts about the Halloween season are the "spooky vibes", horror movies, and the chance to dress up and have fun with her siblings. 
"I always go trick or treating with my sisters and we go around the neighborhood. But since there's the COVID situation, we can't really do that anymore." Tran said. "While it may be fun to dress up, there's not much you can do with that. It won't be as fun this year."
This year on Halloween, Tran plans to just go to a family friend's house and watch horror movies. "Maybe we'll buy some candy too. But I think we'll mostly just chill." Tran said.
Alea Adejumobi, a Garfield mom of three, also shared her plans for Halloween this year. She plans to celebrate at home because of safety concerns regarding crowds and accepting candy from strangers. 
"What's the big deal about Halloween this year?" said Adejubomi. "We've all been wearing masks and eating too much candy for eight months already, so why do we need a special day for that?"
Leave a Comment
About the Contributor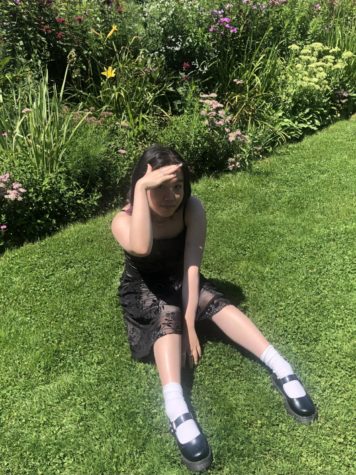 Nhu Tat, Editor in Chief
Nhu is a senior at Garfield High School and Managing Editor of The Messenger. She is committed to accurately representing the diverse Garfield community...