Performing for the Camera
Checking in with the Garfield Theater program during online school.
Enormous velvet curtains swing open to reveal a stunning scene as silence fills the room. Actors in elaborate costumes sing and dance their way across the stage. Lights flash, music booms, and wonder alights in the eyes of each audience member.
Now, picture the same setting scrunched onto a glitchy computer screen. That, unfortunately, has been the reality of Garfield theater during the first few months of online school. The theater department has been rehearsing over Zoom, struggling to find new actors, and completely re-imagining performances.
"Virtual theater is something everyone's trying to figure out right now," said Adam Race, Vice President of the GHS thespian troupe.
In a normal school year, the theater department would put on a fall show. Another annual event was Dramatic Paws, a series of student-organized small plays. This year, those productions have been replaced by the Autumn Showcase, which will present four short shows directed by students Maija Brown, Kyri Miller, Danielle Croom, and Owen Montefisher.
"There's also going to be students' art involved that isn't just plays," said Race. The showcase will include singing, musician performances, and spoken word pieces, all created by GHS students. A livestream collection of these pieces will be released on October 30th. In winter, a similar showcase will occur, though this one will exhibit entirely student-written shows. "We haven't done anything like this for a while, that's all student-written."
The theater department experienced another extreme change this school year – a new teacher. Natalie Gress, who stepped in this September, is not entirely unfamiliar to the school. She completed her student teaching at GHS in the 2017-18 school year and took over the production of Urinetown when Mr. Hawke, the previous teacher, experienced health problems.
"She did a really good job for someone who hadn't worked at Garfield ever before or…even directed a large scale thing before that," said Race, who was in 9th grade when Gress was a student-teacher. "I don't feel like I'm completely new to the program. I feel welcomed by students…and colleagues into the Garfield community." Race, along with many other students, is appreciative of what Gress has done so far.
While Gress' experience has smoothed the transition, online theater has brought on many new difficulties. Along with the expected challenges of rehearsing through virtual meetings, the department has struggled with growing their program.
"It's hard to get people involved, especially when it's online, it's a lot more alien and intimidating," said Race. The limited number of actors has meant that they can only put on four shows, instead of five or six as in previous years.
As a result, the program is changing drastically. "We're being pushed to adapt," said Gress. "As unfortunate as the times are, I think it's really important that we have the skills to adapt and adjust and keep an art form alive that is currently on pause."
The transition to online school has required a total reworking of the theater program. 
"There's a whole bunch of opportunities to have students across disciplines work together in ways that they haven't before," said Gress, who hopes to collaborate with the music department and video production classes in the future. "Maybe that's something that's coming out of this situation is that we're not going to be so isolated to our own programs."
This year, Gress also wants to encourage more outreach to feeder elementary schools to help fuel their theater programs and strengthen connections. 
"We're doing a really big push this year to create content that is family friendly," said Gress. The spring musical, Disney's The Little Mermaid, is part of this plan. In winter, the department will put on their annual children's show, which will comprise multiple smaller productions of classic stories. Gress intends to record both productions and distribute them to elementary schools, where they can be used educationally or for the enjoyment of individual families.
In the past few years, the program has struggled through changing directors and performance cancellations, but this year presents an opportunity for a clean slate.
"We're going to do what we can this year, and I think it's going to turn out very [well] and definitely unique," said Race. "It's kind of a nice rebirth for the theater department."
View Comments(1)
About the Contributor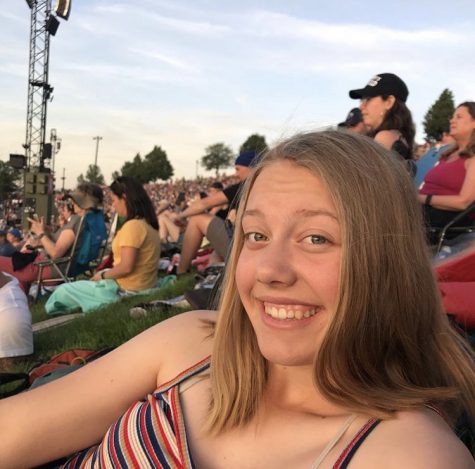 Maya Shelton, Staff
Maya is a senior and a first-year Messenger staff member. Her favorite things are (listening to) music, writing, creating art, and eating. She is looking...