You Can't Stop the Beat
Music Production: a new class at GHS.
If you like to create your own music and beats, the new Music Production class is the place for you.This year Garfield has received a sponsorship from Microsoft to fund this new elective, creating a space where students can receive the knowledge and the tools needed to express their creativity through music.
Kevin Lavitt, the Music Production teacher, has a background in piano and has devoted much of his life to his career in music. While going to school for piano, Lavitt met many people in the Seattle community who he went on to collaborate with and gain experience from.
"While in college I was doing a lot of gigs here in Seattle where I met a lot of Seattle MC's such as Sam Lachow, Raz Simone, Sol, Brothers From Another and just made Seattle my home base," said Lavitt.
Here at GHS, students from different artistic backgrounds find a connection through the  Musical Production class. The Music Production class has already caught the attention of students desiring to display their creativity through making their own music.
"I get a lot of people interested in
rapping, singing and then a handful that are just interested in how music works," said Lavitt.
As people, when we hear music that has a specific feel or beat that we like, it's natural to wonder about the process of establishing that emotion. Lavitt works to teach those steps and help students come up with ways to display their style of music.
"My job is to give the students the tools, knowledge, and options where they can take these interest. Many people will listen to music and vibe but just want to know how the artist pulls off the feel of the music, and that's what I'm striving to teach," said Lavitt.
Music Production is still a fairly new class here at GHS so the equipment available for the class is pretty limited, for now. These tools range from laptops to keyboards for students to get hands on experience.
"We work on these really cool surface books, mini keyboards to perform, a couple mics, a piano and we're hoping for much more," said Lavitt.
The goal of the Music Production program is to give students the opportunity to explore their musical interest as they learn to use musical instruments and carry out their own visions and ideas.
"I hope students take away the experience of putting in the work to discover their unknowns," said Lavitt. "Put in the work to learn about the unknown and master their craft of music."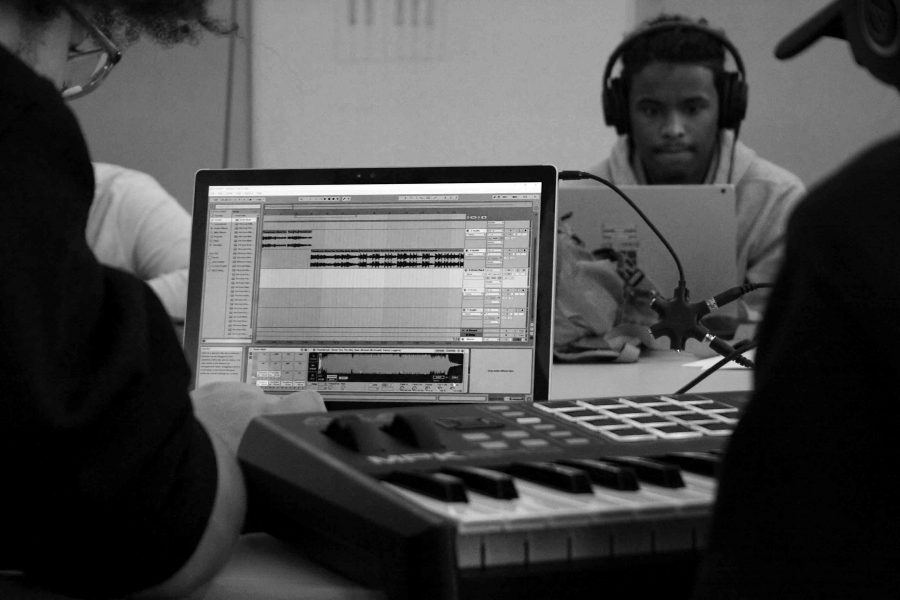 Garfield students huddle over keyboards, producing new beats. 
Photo by Elliott Hoppe