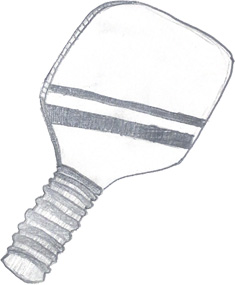 Pickleball, a sport once only played by middle-aged parents, has recently sprung up across Seattle, and now it's finally infiltrated Garfield.
The rise of Pickleball was something that nobody could have predicted, but the sport caught the eye of the youths and burst into popularity. Mazin Quotah, the president and founder of the new Garfield Pickleball Club, says that its quick rise to the top might have to do with its accessibility. Part of its accessibility is low physical demand. "You can play pickleball for two hours. Like it's not gonna make you that tired," Quotah said. Not only is it physically accessible but it is easy to find a place to play as well. One tennis court can be made into two whole pickleball courts, and four people can play on each one, allowing for a total of eight players on a single tennis court. 
Quotah's hopes for the club are quite simple yet profound, "I want there to be a community in Garfield that likes Pickleball and where if you do enjoy pickleball, you have this place to go where you can talk to other people that enjoy it." But the club isn't only for experienced players. Quotah wants the club to be a place where "new people can come and not feel intimidated." The pickleball community is a friendly and helpful place for new players. During the first meeting, Quotah didn't even play. He instead lent his extra paddles to the new players and helped to coach them through their first few games of pickleball.
Despite the club's insistence that they're not super serious, you shouldn't be fooled- they have some grand plans brewing. "At some point, it should become a sport, like, we have tennis and wrestling, so why can't we have a pickleball team?" Quotah has already reached out to a matching pickleball club at Franklin High School, in hopes of establishing themselves as a team. Together they hope to set up friendly tournaments, potentially with small cash prizes for the winner.  They also look to get funding to purchase nets and extra gear, allowing the club to grow and letting more people play at once.
Pickleball Club is a fast-growing Garfield community, so if you are a student looking for a fun, inclusive, and athletic group, give pickleball a try, and you might just find yourself with a brand new hobby or even a crippling addiction.