Not Too Sweet
Reviewing Asian grocery store snacks to determine which snacks deserve the quintessential Asian dessert compliment.
All items were obtained at Uwajimaya in the Chinatown/International District (CID) unless otherwise noted.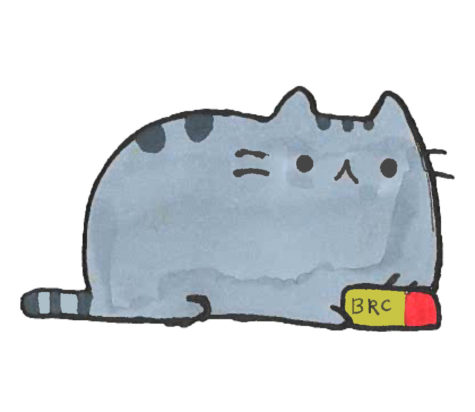 Pineapple cakes are a Taiwanese dessert consisting of buttery shortbread pastry filled with pineapple jam. We tasted Isabelle brand pineapple cakes from Costco (although they can also be found at the CID Uwajimaya), and we found the outer pastry to be a tad dry but the inner filling was moist and sweet. 
Price: $16.00 per box (contains 16 cakes)
Contains: Wheat, Milk, Coconut, Egg
Score: 5/5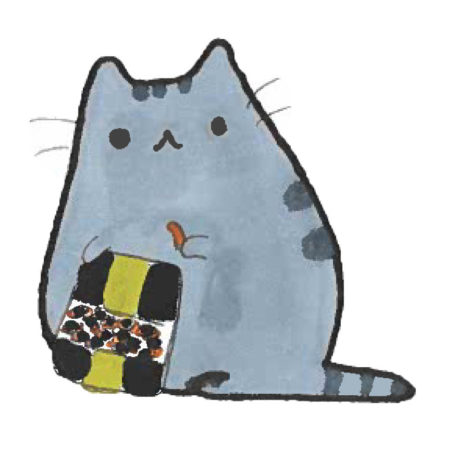 Muruku, originating in India, is fried strands of twisted rice and urad dal flour, spiced with salt, chili, and asafoetida. Upon review, we found Muruku to have a delightful umami flavor and a welcome hint of heat. These fried strands are an easy on the go snack. Nothing noteworthy, but a solid snack nonetheless. 
Price: 3.79 per bag
No allergen information provided on packaging
Score: 4/5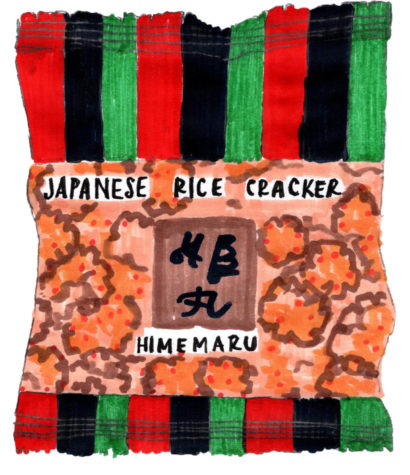 Himemaru are Japanese rice crackers. They are made with glutinous rice and deep-fried, giving them a golden color. They are covered in a sweet and savory spice mix. We found the crunchy texture delightful and appreciated the visual beauty of each cracker's subtle flower shape.
Price: $2.49 per bag
Contains: Wheat, Soybean, Bonito
Score: 5/5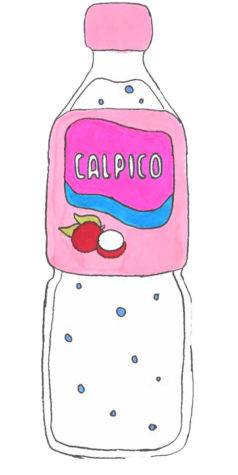 Possibly one of the best drinks out there, (per Mia's opinion) Calpico is a soft drink originating in Japan. We reviewed the lychee flavor and found that the texture was smooth and delightful, and awesome flavor-wise. It has a distinctive lightness to it, making it easy to chug in one go. Leo and Michelle found the Calpico to be decidedly "mid". Mia, au contraire, cannot overstate how good it tasted, expressing it as "simply heavenly". 
Price: $2.99 per bottle
Contains: Milk and Soy
Score: 4/5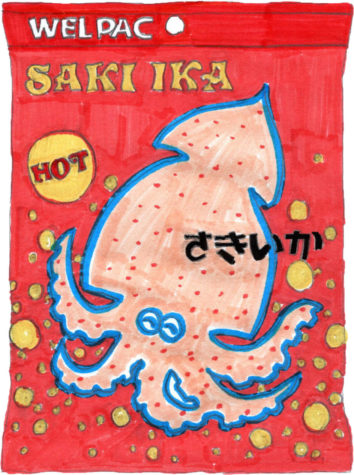 Dried Squid, as the name suggests, is squid or another cuttlefish that has been shredded, dried, salted, and spiced. It is a popular snack in many East and Southeast Asian countries, particularly Hong Kong. We found the Welpac brand to have a particularly pungent smell, filling the room with the scent of the sea. It is not very spicy by Asian standards, but it does have a modest kick to accompany the slightly tough, chewy texture of the squid.
Price: $3.59 per bag
No allergen information provided on packaging
Score: 4/5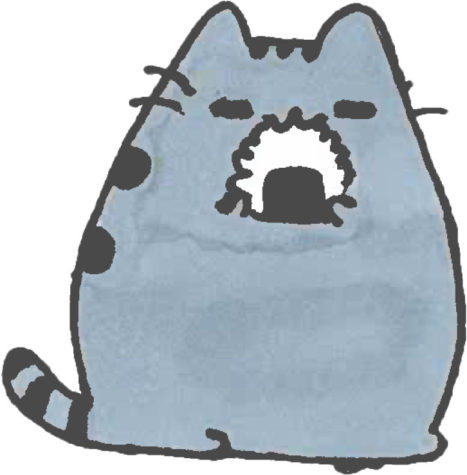 To our disappointment, Sapin Sapin was the definition of mediocre. When reviewing the Sapin Sapin, we were incredibly underwhelmed. The colorful layers of glutinous rice and coconut originating from the Philippines looked better than it tasted. Texture-wise, Sapin Sapin is comparable to rice pudding, and when it came down to flavor, there was practically nothing. The small piece is not worth the price.
Price: $3.49 per container
No allergen information provided on packaging
Score: 2/5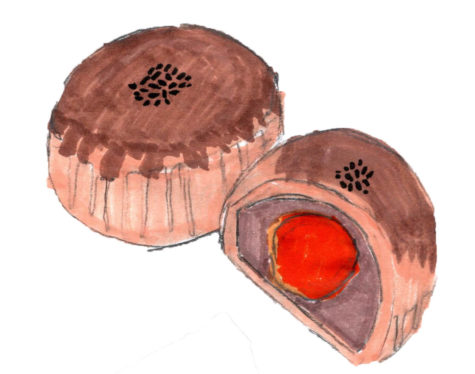 Mooncakes are a delicacy originating in China and are usually eaten during the Mid-Autumn festival. They are wrapped in a puff pastry shell and often filled with a lotus seed paste, and a salted egg yolk center. We reviewed Kam Wah Egg Yolk Pies (obtained at Costco but also sold at Uwajimaya). The pastry was flaky and the lotus paste was thick and not too sweet, but we were divided over the flavor of the salted egg yolk. Michelle and Leo cherished the dimension the egg yolk brought to the pie but Mia disliked its salty flavor and sand-like texture.
Price: $11.97 per tin (contains 8 pies)
Contains: Wheat, Eggs, Soy, Peanut
Score: split- 0/5 and 5/5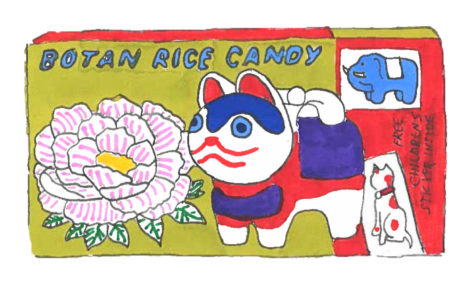 Botan Rice Candy is delicious, fun and nostalgic. The brightly decorated box comes with a complementary sticker inside and 6 individually wrapped jelly-like candies. Sold in Japan as "Dagashi", these candies are marketed towards schoolchildren. We found the rice candy to have a pleasant fruity flavor, while not being overwhelmingly sweet. If you're looking for a light snack, this is the one for you. Do not try to peel the "2nd layer" of wrapping off, it's in fact rice paper and is edible!
Price: $1.29 per box
No allergen information provided on packaging
Score: 4/5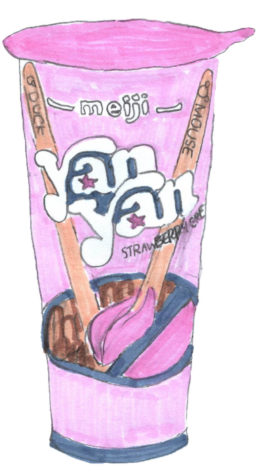 Yan-Yan is a Japanese snack invented by Meiji, consisting of breadsticks and a creamy dip. The dip comes in three flavors: chocolate, strawberry, and vanilla. The breadsticks have little animal doodles, the name of the animal, and a quality of the animal written on the other end. We thought the breadsticks had a good crunchy texture, but the cream could've been thicker.
Price: $1.49 per container
Contains: trace amounts of peanuts and tree nuts
Score: 3/5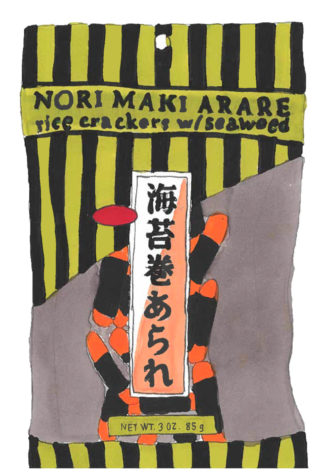 Nori Maki Arare are good for the first 3 servings, but get flavorless after a while. Nori Maki Arare is a type of Japanese Beika snack, made of a slightly spicy cylindrical rice cracker wrapped in seaweed. We found this snack to be enjoyable for a limited amount of time. After a while, the Nori Maki Arare develops an unpleasant aftertaste. We highly recommend putting it in a mix of other similar rice cracker snacks.
Price: $3.59 per bag
Contains: Soybean, Wheat
Score: 3/5
Leave a Comment