A Lesson In Luxury
A inside look into Seattle's Private Schools
About 1 in every 5 Seattle students are enrolled in private school, according to a 2020 report by the Seattle Times. As Seattle Public Schools project a deficit of $190 million dollars in funding, and Seattle's household income gap grows greater every year, the difference between private and public education grows ever so stark. While private schools boast high academic enrichment and a greater teacher to staff ratio, are they also bubbles of privilege that exclude students from the "real world"? Does the reputation of diversity in public schools like Garfield really hold up in the classroom? How much of a difference does your education make? We asked students from around the Seattle area about their experiences with public and private education.
LAKESIDE
The Lakeside School has a reputation for expecting excellence and is known for their college counseling team. The college prep process starts as early as sophomore year at Lakeside, when the counselors present a powerpoint to get students thinking about colleges. At Lakeside, there are 2 counselors per every 8 students, one for mental health and one for college counseling. Junior year, Lakeside students get assigned college counselors, with meetings roughly once a month. These meetings become as frequent as every 1-2 weeks during senior year. When asked what to describe the college counselors role, Lakeside Junior Khalil Wilkinson stated, "[The counselors] are there to work with your parents and suggest which schools you should apply to. They help you think about what extracurriculars you should take, and which schools you should apply early to." The counselors provide students with a list of colleges to apply to based on their career aspirations, life goals, and personal wants. In addition they prepare a list of internships, and extracurriculars to participate in, in order for the student to get into their top college. This extensive college prep process is what makes Lakeside a feeder into top universities such as Stanford and MIT. Withholding from college is almost not an option for Lakeside students, "I would say there is a very high pressure to go to college, basically everyone goes on to do some type of higher education. There definitely is some pressure to get into highly selective colleges, but it's not an insane amount" Wilkinson said when asked to describe the social environment surrounding colleges at Lakeside.
The school culture at Lakeside reflects this rigor, "My least favorite part about this school is the intensity. There is a lot of pressure, it almost feels like everyone is really good at something, like there is someone in my advisory who has multiple world records for solving Rubix's cubes, and another classmate is the best tennis player in the state. It does feel very intense, and the academics are very intense, there's a culture of constantly pushing yourself." Wilkinson explained. He later added that the support from the teacher faculty makes the intensity bearable, stating, "The teachers are there because they really care about you. They're passionate about what they're teaching, and it feels like they're there to support you."
BLANCHET
The recently renamed Bishop Blanchet is one of many Catholic schools in the Seattle area. While this does mean that students partake in regular religious practices during school hours, there's much more to the school than its catholic focus. Mckay feel that the Blanchet staff really care about their students, and try to cultivate a sense of legacy and pride throughout the school. Like Garfield, many of the staff at Blanchet attended the school as teenagers. However the reputation of Blanchet is certainly not one of diversity, according to Blanchet senior Eliot Mckay, "There are like no black people at my school, it's pretty ass.. Like literally my one black friend graduated last year. " This issue of diversity further feeds the fire of another aspect of the Blanchet social scene: the cliqueness. According to Mckay the school is composed of set friend groups that remain unbroken from middle school. Despite the issues within the culture of the school, Blanchet does a good job at ensuring their students feel supported, fostering a "no student left behind" policy. Students are all expected to maintain as close to a 4.0 as possible. "Last year I dropped the ball with my grades second semester and my teachers really helped me get it back together and figure out how to get my GPA good again.," said Mckay.
BUSH
The Bush School; home to the mighty Blazers, support dogs, and a Nordic ski team. Outside activities seem to be a staple at Bush, with yearly "field trips" to different camp-sites around the Seattle area. Bush Senior Ethan Lapin stated, "At the start of the year, every grade goes on a retreat. We normally go to different camps and do bonding activities for a day or two." On top of this, Bush hosts the only high school cross-country ski team in Seattle, with ski trips to their extensive 20-acre campus in Mazama, WA.
While the academics at Bush are rigorous, the social environment surrounding academic performance is quite supportive. According to Lapin, most Bush students care about their grades, and for a lot of students that means maintaining a 4.0. However, "At Bush we do have almost inflated grades. Bush has a lot of systems in place, making it hard to get anything lower than a B-. But on the other end of the spectrum, a 4.0 is pretty hard to maintain," Lapin stated. These systems in place include three college counselors, two wellness counselors, three learning specialists and two support dogs. A lot of the support also comes from the student body, especially in athletics. Bush hosts "Blazer Bashes" (A.K.A tailgates) for each sport. "We try to support each other in everything, we try to be show up and show out, "Lapin said when asked about Bush's school spirit.
HOLY NAMES
On the front page of the Holy Names Academy website, you can see their mission stated: "to inspire young women of diverse beliefs and backgrounds to excel in life with confidence and courage." Former Holy Names and current Garfield student Flora Vall-Spinosa believes that this mission statement is fairly exaggerated. Holy Names has a strict dress code, including rules about no dyed hair. Vall-Spinosa did not appreciate the regulations surrounding hair and decided to show up one day to school with bright blue hair in retaliation. "[The administration] was not happy with me," Vall-Spinosa stated. "I actually used their mission statement against them in my email about dyed hair." You can now spot Flora in the Garfield hallways sporting the brightest blue hair.
Holy Names Academy is not afraid of academic rigor, and AP exams seem to be a measurement of success at the academy. All students enrolled in AP classes are required to take the corresponding AP exam, their exam statistics on the second page of their school profile, with HNA students outperforming the global averages by a huge margin. It's clear that HNA is academically intense, and some former students think it goes too far. Both Vall-Spinosa and Gracie Larson are former HNA students who transferred to Garfield. They agree that there was high pressure to perform well. "The thing I love about Garfield is how much less stressed and miserable I am. The HNA pressure to succeed and excel was overwhelming, and I have found Garfield academics a lot more relaxed. People's attitude towards school is very different at Garfield; it does not seem to be a priority in the way it was at HNA. However, I am very appreciative of the academic skills I learned in private education." Larson stated.
Leave a Comment
About the Writer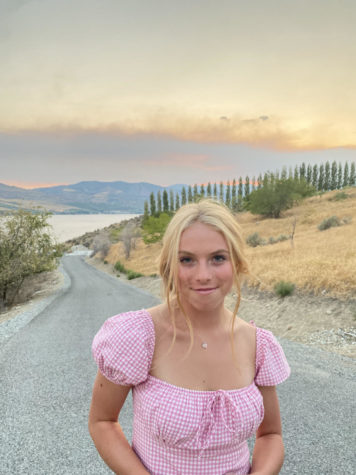 Lucy Gaines, Staff
Lucy is a junior at GHS. she has been with the messenger since the 2021 school year.  she has done many articles for the NFO section of the paper and...