Foul Figure Skating Fits
Figure skating fits that belong in the hall of shame.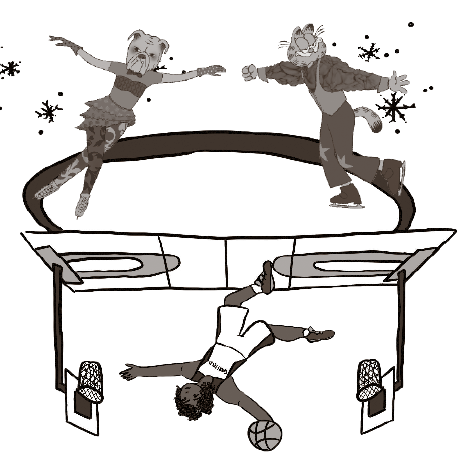 Figure skating is a sport that values aesthetics as much as dexterity. While a botched lutz can tank a skater's score, so too can a garish costume. 
The rules of figure skating fashion are as follows: no excessively showing skin, and nothing that falls off your costume. Male-identifying skaters are banned from wearing tights (thank god). Depending on the event (showcase, competition, etc.) there may or may not be a theme. Costumes may reflect the character of the music, allowing the skaters to go wild. However, this creative liberty has led to some atrocious fashion statements.
The Sochi 2014 Olympics were a rough time for figure skating fashion, when skaters graced the rink with colors so bright they could glow in the dark. Australian pair skaters Danielle O'Brien and Gregory Merriman stepped out onto the ice, clothed head to toe in tacky highlighter tones. Together, the pair made a horrifying vision of magenta, electric blue, and light neon green. To add insult to injury, Danielle's corset was adorned with silver rhinestone swirls and black polka dots, and the designer's attempt to jazz up her colorblock dress with thick black sequins backfired immensely, making the costume look cheap.
Gregory, on the other hand, was dressed tamely in dark gray pants held up by suspenders and sporting an unkempt magenta polka-dotted bow tie. That in itself is not a fashion crime, had it not been paired with a fluorescent green long sleeve button up. Seriously, is this a figure skating costume or an electric fly trap? Greg's pants were covered in iridescent blue patches, complete with a magenta handkerchief attached to his back pocket which could be mistaken for a furry tail at certain angles.
Russian skater Ilia Kulik rolled up to the 1998 Nagano Olympics looking perfectly respectable from the waist down and a hot mess from the waist up. Dressed in a marigold yellow shirt with puffed sleeves and black abstract cutouts mimicking a giraffe or a cow, Ilia's costume is an insult to animal print. He made the dire mistake of wearing a white vest, blending his torso into the ice and forcing the audience to focus on his abomination of a shirt and his legs, which were clad in plain black pants. Someone tell this man that black and yellow only looks cute if you're a bee in a kindergarten ballet recital or a danger sign. 
And the blinding color jabs don't just apply to Australians in Sochi, they also apply to Canadians in Beijing. Piper Gilles and Paul Poirier arrived at the 2022 Olympics looking like a pair of orange highlighters. Unlike the Australians, this partnership managed to make use of the color wheel, pairing complementary colors blue and orange together. Piper's ensemble consists of a hot pink bandeau with a fluorescent orange jacket dotted with rhinestones, successfully blinding the judges. The rhinestones were arranged in a paisley pattern, giving the audience an unwelcome jolt to 2014. The skirt is a swirl of blue, yellow, pink, and green, which would be fine if the designer limited themselves to two colors, but unfortunately for Piper, they didn't. 
Paul's costume is slightly less viscerally disgusting, but only when he stands next to his partner. His shoulders are decorated with scraps of bright fabric leaf clusters and he has echoed Piper's blinged out look with excessive rhinestone detailing. 
All in all, while figure skating depends entirely on how pretty skaters can make technical elements, sometimes that finesse doesn't translate to costume design.
Leave a Comment