Winner Takes All
Garfield girls' basketball looks for another slam dunk season.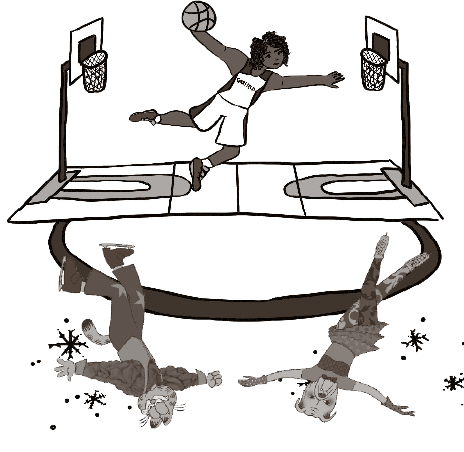 Last year, the Garfield Girls' basketball team was at the top of their game. They easily took the Metro League in a clean sweep, moving on to the 3A Washington State Championships with high hopes. They progressed through each game with a win, crushing most of their opponents, until they were faced with the final matchup against Lake Washington. The pressure was on. If they won this game, they would have back-to-back titles as State champs. It was tight, but the Bulldogs managed to score six points in the last three minutes and four seconds of the match, pulling out a 39-38 victory and securing their spot as the number one team in the state.
This year, the team is looking to take the State title for a third time, but it won't come without its challenges.
"I think our matchup this year is gonna be against Lakeside," Naveah Talbert said, a point and shooting guard. The Bulldogs faced the Lions several times last year, including in the Metro League Championship, where the game ended in a 64-57 victory. Garfield is looking for another win over them this season. "I think we'll be fine if we don't speed up to their pace. Just to play our game, ya know?" added Naveah.
Additionally, Marvin Hall, who had coached the team since 2018, resigned this year after concerns about questionable interactions with a former student arose. Talbert shared her concerns about how the situation is affecting the team this year. "We're a little rocky 'cause we don't know our coach," she said, "right now we're working with the football coaches and the boys' coach." Without a proper coach, other teams may find a slight advantage. But Navaeh believes that, "as long as our team sticks together, we'll be fine."
"I feel like the players are handling it pretty well," said Sophomore Sarah Lessig, a returning varsity player. "But we're just going to have to see."

Despite these obstacles, the team's passion and joy surrounding the sport has remained strong. "The team is definitely really hard working. Everyone pushes each other to get better everyday. If you're caught slacking they're gonna get on you for that, but it's also super positive– like, everyone's uplifting each other, so it's a good environment," Lessig commented.
Katie Fiso, a returning varsity player, shared what she's excited for this season. "Definitely building relationships with my teammates. We have some new girls on the team, so I'm excited to see what their personalities are like. And definitely trying to keep up the winning streak from last year."
As for Talbert, she's heading into the season with a lot of anticipation. "For me, I'm looking to get better 'cause I'm coming off an ACL injury," She said, "I'm looking forward to helping my team out, and you know, doing whatever I gotta do to win."
The first game of the season was on December 2 against West Seattle High School – a decisive 72-40 win, and on December 14 they will face off against Lakeside on their home court. With the possibility of three back-to-back State victories on the line, the Bulldogs gear up for another season of hard work, teamwork, and domination over their opponents.
Leave a Comment
About the Contributor
Ali Merz, Staff
Ali is a junior at Garfield and this is her first year on the Messenger. She loves playing on the Garfield soccer team and competing on the Seattle Bouldering...