Feast with Friends
Why Friendsgiving is giving.
A spin on America's favorite November holiday has increasingly gained popularity over the years, trading the occasionally dreaded family dinner for a dinner with close friends. Friendsgiving is a low-stress, high-reward, dinner that incorporates everyone's favorite parts of Thanksgiving such as the selection of foods, while leaving out the unwanted guests, potential glares and whispers, and familial judgment that comes with the yearly reunion. A typical Friendsgiving dinner takes place within the weeks leading up to Thanksgiving day, however that's not to say it can't also occur after or even the day of Thanksgiving. 
Having a friend dominated dinner allows for there to be a less pressure-heavy experience for both guests and hosts, reducing tension and angst in comparison to the aforementioned Thanksgiving dinner. Those who don't have the best connection with their family, being immediate or extended, might seriously consider gathering a group of friends, and hosting their own Friendsgiving dinner filled with acceptance, love, and of course, gratitude. Anything you may miss from your family's annual Thanksgiving dinner can be made up for in fun new traditions, foods, and experiences amongst your friends.
Just because there no *insert family member's name + famous + dish here* doesn't make the dinner any less fulfilling and tummy-achingly good from overeating. The food accompanying a Friendsgiving dinner doesn't drift far from the American Thanksgiving classics, however the menu is entirely up to the host and what the guests bring. So, a fully vegetarian, vegan, or any other diet-restriction compliant dinner is completely on the table, literally. If there's any questions or concerns involving anything related to the dinner, asking the host is the way to go. 
Formality-wise, Friendsgiving is casual, yet it's still a good idea to show up looking nice, like one would do for any other dinner. Friendsgiving doesn't inherently replace Thanksgiving, you may experience both dinners if you so choose, yet if a family dinner isn't accessible or not something you're interested in this year but you don't want to give up that celebratory tradition of an autumn dinner, Friendsgiving is the way to go!
Advice from a host, featuring Z 
What's a good dinner size?
"It can be any size, I think six, eight, ten [guests], too much more than that, then it's hard to get everyone around one table." 
How long should dinner last?
"It's good to start a little earlier, and I think the meal should be kinda long. A good dinner like this, a big holiday dinner is probably like two-three hours. "
Can I show up empty handed?
"It's good manners to always show up with something, whether it's flowers or cider or something you made. I just think it shows that you're a part of it."
How early should I arrive?
"Ask your host when they want you to show up, for a lot of hosts it's actually hard to have people there too early because they're cooking."
How late should I stay after dinner?
"Feel the vibe out. You can watch a movie or chat or play a game or something, obviously eat desert, but once you notice that most everyone is gone, get out of there."
Leave a Comment
About the Writer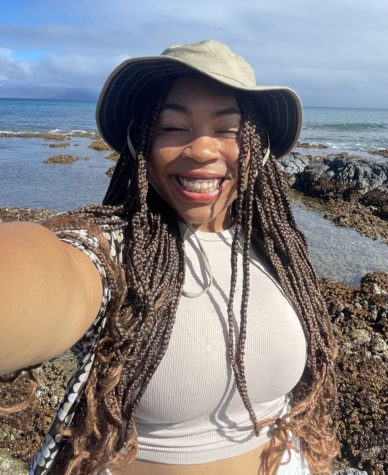 Jada Johnson, Staff


Jada is a 17-year-old Senior at Garfield High School and this is her first year on The Messenger. She enjoys watching various TV shows ranging...