Activism
Black in Power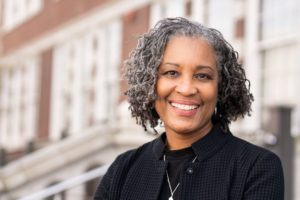 Michelle Sarju serves as the District 5 Director for the Seattle School Board. Sarju won the general election on November 2, 2021, with 85% of the vote. The 34-year Central District resident represents the schools of Capitol Hill, Chinatown International District, First Hill, Leschi, Madison, and lastly, the Central District. Those schools include Garfield High School, Washington Middle School, and Thurgood Marshall Elementary. 
Children and youth health has been integral to Michelle's career. Michelle has three children who have all attended Seattle Public Schools. The former TOPS K-8 and Garfield High School PTSA member has worked as a midwife, social worker, and maternal health professional. She is also the manager for a King County Public Health child healthcare program. 
Director Sarju's priorities are to provide resources and support for staff and students to be successful, including families in district decisions, and ensure equitable access despite the pandemic across races, zip codes, incomes, abilities, and languages.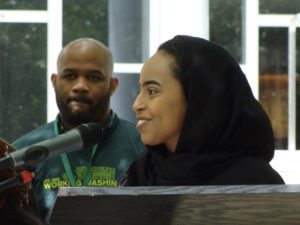 Hamdi Mohamed is the first Black female Port Commissioner of Seattle and is the first Somali and East African woman elected to public office in Washington State. As for 2022, Mohamed will serve as the Director of the Office of Immigrant and Refugee Affairs for Mayor Bruce Harrell's administration. 
Commissioner Mohamed has deep ties to the Port of Seattle. Her father worked as a truck driver, her mother worked at the Seattle-Tacoma International Airport, and Hamdi has worked in South King County with frontline workers for over 15 years. Although Hamdi is a first-time elected official, she is no stranger to the responsibilities. Prior to her election, Hamdi served as U.S. Congresswoman Pramila Jayapal's deputy district director and is still working as the Public Policy and Strategic Project Manager for the King County Executive Office of Equity and Social Justice. Mohamed has worked for community organizations like CARE International and the Refugee Women Alliance.
She ran on a platform of climate, economic, immigrant, and worker justice, securing endorsements from notable unions and elected officials. The commissioner is prioritizing the reduction of aircraft-caused air and noise pollution partially through transitioning to renewable energy, especially for communities living closest to the airport in Seatac. Mohamed also wants to restore salmon and orca populations and create equitable economic development in Port-related industries.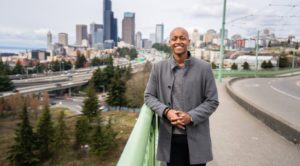 Girmay Zahilay is the only sitting Black King County Councilmember in Washington State. He was elected in November of 2019 to represent District 2, spanning areas like South Seattle, the Central District, Beacon Hill, Rainier Valley, and Skyway, neighborhoods which are some of the most racially and economically diverse in the city. The councilmember immigrated to South Seattle from Sudan, where he was raised in low-income public housing. Zahilay graduated from Franklin High School. He then received his degrees from Stanford University and Penn Law.
Having worked in the Obama administration, Girmay is passionate about anti-poverty action. He worked in the Congressional Hunger Center and founded the nonprofit Rising Leaders, Inc., to provide mentors and life skills training for underserved youth. 
Councilmember Zahilay has already accomplished major policy wins during his first term in office. He has funded tens of millions of dollars for a community center, affordable housing, and increased public transportation in Skyway. He proposed and passed Charter Amendment 6, allowing King County to invest in public health and community-based alternatives to policing. Girmay cares about infrastructure development and multigenerational access to the political process. 
Resources
BlackPast: BlackPast is an online database where individuals can find and learn all about African American history. It is referred to as the "'Google' of African American history."
Seattle Civil Rights & Labor History Project: The Seattle Civil Rights & Labor History Project is another online database that serves to provide history on activism and civil rights in Seattle as a whole all in one place.
Unicorn Riot: Unicorn Riot is a non-profit pro-black anti-racism media organization of artists and journalists that is a great place to stay up to date.
SeattleGood.org/Support-Black-Communities: A database where you can find Black-owned businesses to support.
Marsha P Johnson Institute: The Marsha P Johnson Institute is an online space to listen to, support, and fight for black transgender women.
Color of Change: Color of Change is the largest online racial injustice organization in America, focusing on effectively fighting racial injustice by building Black power in various ways including but not limited to voting freedom and media justice.
National Black Justice Coalition: The National Black Justice Coalition is a civil rights organization dedicated to the empowerment and liberation of Black LGBTQIA+ individuals in America through research, education, and change.
Lavender Rights Project: The Lavender Rights Project is an organization focused on addressing the crisis of violence against Black Trans people centered around community building, research, and political action in Washington.
King County Equity Now: King County Equity Now is a pro-Black nonprofit focused on advocacy and policy organizing centered around the development of liberated Black communities who own and control the resources and systems that impact Black lives.
Seattle Indivisible: Seattle Indivisible is a Seattle-based anti-racism and corruption organization that provides organized ways to make real change.
Black Trans Advocacy Coalition: The Black Trans Advocacy Coalition is a social justice organization that is led by and for Black trans women.
Seattle Activism
Dr. Martin Luther King arrived in Seattle for his first and only visit on November 8th, 1961. Dr. King came to Garfield High School on November 10th, after speaking at the University of Washington and at Temple de Hirsch. Dr. King's speech to the Garfield students and staff encouraged the community to protest and participate in activism to debunk racial segregation and discrimination. Parts of his speech at Garfield were later used in this I Have A Dream speech in Washington DC on August 28th, 1963. 
The Black Panther Party (BPP) was founded by Huey Newton and Bobby Seale on October 15th, 1966 in Oakland, California. The party emerged in Seattle in 1968 by Black Student Union (BSU) members and was the first BPP group outside California. The Seattle Panthers had to adhere to the Ten Point Program that the BPP followed, which contained ten demands for Black power, independence, access, protection, and rights. The BPP, similar to many civil rights groups at the time, faced oppression from the government, seen through political and social attacks from government officials.
At 12:45 pm on March 29th, 1968, 100 students from various Seattle Public Schools marched into the Franklin Highschool principal's office, chanting "Ungowa, BLACK POWER!" Students had three demands; "1) that a black administrator be hired at the high school level in the Seattle Public School system; 2) that an African American history class be taught at Franklin; and 3) that images of black heroes grace the school walls along with the other American historical figures already featured" (Gilbert). This was the start of a demonstration that remained on school grounds until 3:45 pm that day after students and faculty had been dismissed at 1:45 pm for their 'safety'. March 29th was the first sit-in held in Seattle schools. As a result of this, Carl Miller, Aaron Dixon, Larry, Richard Gossett, and Trolice Flavors were all arrested on April 4th for their participation in the protest.
The motive for the formation of the UW BSU was in November 1967, when students traveled to Los Angeles and attended the Black Youth Conference. After returning from the conference, UW students intended on establishing their own Black Student Union in Seattle. The party finally emerged during the first week of the 1968 winter quarter at UW by the Afro-American Student Society and the Seattle chapter of Student Nonviolent Coordinating Committee merged to form the UW Black Student Union. 
The catalyst of the Black Lives Matter protests started with the killing of George Floyd on May 25th, 2020. This pushed a group of Seattle protesters to march from Hay Hing Park in the International District through downtown on May 29th. The march escalated and the police intervened in riot gear to stop the protesters. This was the first of many peaceful and violent protests near Seattle's East Precinct. The Seattle Police Department (SPD) eventually abandoned the precinct on June 8th, which was taken over by protesters soon after and named CHAZ – Capitol Hill Autonomous Zone. CHAZ was eventually dismantled by SPD on July 1st, although the movement is still present in Seattle today.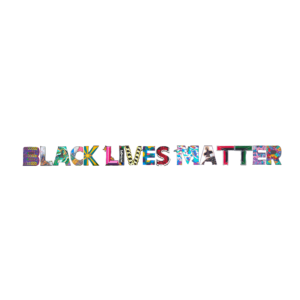 Seattle Activists
Susie Revels Cayton was born in Mississippi in 1870 to her mother and father Hiram Revels, the first Black senator in United States history. After moving to Seattle in 1896, she wrote for The Seattle Republican, where she worked as the associate editor from 1900 until its folding in 1913. Revels started a new paper, Cayton's Weekly, with her husband in 1916. The paper targeted Seattle's Black community. She wrote progressively about the Black community, although she faced criticism over her privilege. In addition to her writing, Revels also founded the Dorcas Charity Club. which focused on welfare issues and the progress of the black opportunity. She and her family's role of activism in Seattle attracted legendary figures such as Booker T. Washington, Langston Hughes, Paul Robeson, and Richard Wright to their company.
Elmer Dixon and his brother Aaron co-founded the Seattle Chapter of the Black Panther Party in 1968. Growing up in the Central District, he attended Garfield where he organized the Black Student Union. For the Black Panthers, he served as Field Marshall as well as the Breakfast Program Coordinator until 1972 when the chapter closed. He continued to maintain some of the party's programs, such as the breakfast program and health clinic into the late '70s and early '80s. 
Carolyn Downs worked for the Seattle Chapter of the Black Panther Party as a community organizer, organizing community dinners, driving buses for prison visitations, and cooking for free breakfast programs. She is most well known for working in the SCBPP's Medical Clinic established in 1969 to serve Seattle's black community. In 1975 the SCBPP suspended the Medical Clinic in order to establish a freestanding community clinic. Elmer Dixon asked Carolyn Downs to work with him in obtaining funding for a freestanding clinic. With her exceptional organizational skills, Carolyn Downs gathered data on the lack of doctors serving the black community and held community meetings to document the need for medical services in Seattle's black community and community support for a free medical clinic. To honor Downs, it was renamed the Carolyn Downs Family Medical Center, and it moved back to the Central District in 1994 to better serve the people.
Nikkita Oliver is a self-described "Seattle-based creative, community organizer, abolitionist, educator, and attorney." Oliver is a leader in the fight against institutional racism and champions civil rights for all as the main part of their platform. Before running for Seattle mayor in 2017, Oliver was a part-time teacher in the Central District at Washington Middle School. They have done extensive work with No Now Youth Jail in opposition to the new King County youth detention center, which has released its intentions to shut down by 2025. Oliver also is the executive director of Creative Justice, using art to build a sense of community for youth impacted by the school-to-prison pipeline.
Leave a Comment