Faculty Fashion Guide
Breaking down Garfield's most stylish.
Amongst the many show-stopping student outfits walking through Garfield's halls five days a week, most turn a blind eye to the equally stellar faculty fits. While some teachers have signature outfits, others have enviable shoe game, fitted suits and a taste for the hype beast aesthetic. To truly examine faculty fits, it's important to revisit common teacher stereotypes: do all art teachers actually wear silk and sheer scarves? Do all language arts teachers sport the layer combination of t-shirt and argyle sweater? Are tracksuits the required uniform for school security? Will these stereotypes ring true in the quest to break down the faculty fit?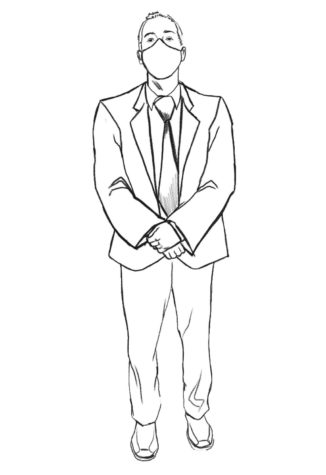 Mr. N-K is no stranger to fashion praise. When asked, students raved about N-K's "suited up" style. Never failing to wear a suit and tie, in a myriad of colors and patterns, he is sure to catch your eye in the halls. When spoken to, he dazzled in a navy blue plaid blazer, gold and yellow button up, grey  trousers, tan leather loafers and a matching belt. The true stars of his outfits, however, is his seemingly endless tie collection. Sporting a terracotta, orange, and creme geometric patterned tie. His entire ensemble screams "history department". 
However, the history department is not alone in their suited up fits. While walking the halls many are sure to find Mr. Barnes and Dr. Hart both shining in perfectly fitted dress attire, as well as the accompanying clicking of shiny dress shoes on the linoleum floor. Of course Dr. Hart never disappointing in his signature bow tie. On the other hand, athleisure is a popular choice amongst many departments and administrators. The security team (Fred and Ms. Griffin) can be spotted in many comfy and casual fits, ranging from school spirited shirts and hoodies, to tracksuits and always a fresh pair of sneakers. A student favorite, Ms. Cohan carries the math department fits on her back. Effortlessly combining athleisure, streetwear and Pilates chic, and always noticeable by her "sleeping bag" ankle length puffer coat. Her outfits are never completed without the complimentary pencil behind the ear touch. "I had a student dress as me for Halloween and she wore an oversized black sweater, mom jeans, white air forces and a pencil in her bun. It was very sweet," Cohan recalls. 
Ms. Makena stands out as Garfield's most expressly stylish teachers, constantly surprising students with bright hair colors, pastels and "sailor moon" inspired outfits. Gravitating towards vintage and thrifted pieces, she comes up with innovative ways to style opposite aesthetics and silhouettes, curating her signature look. From colored tights to crocheted cardigans and velvet dresses, she is sure to catch eyes. *professionalism direct quote*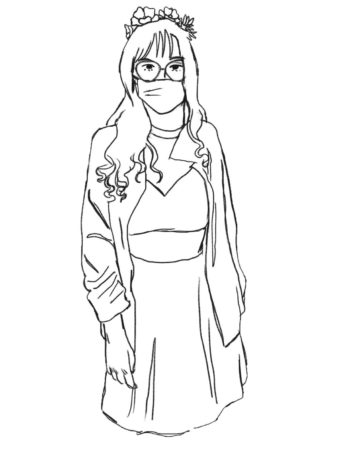 Students were sure to rave about the style of history teacher Ms. Amador. A teacher who draws from their home of LA and chicana culture. When speaking with her, they showcased big radish earrings perfectly complementing her magenta dyed tips. If vegetable earrings aren't the mood they will opt for big hoops and other statement accessories. Being from Los Angeles streetwear offers great influence to their style. Believing that an outfit should be a creative outlet, and she is sure to show that. Streetstyle is popular amongst more than one teacher at Garfield. Ms. O takes advantage of the Seattle cold in dressing in, "something that resembles a bag" as her partner puts it. A signature component of theirs is layers, and neutral tones, tending to gravitate towards flowy and oversized silhouettes. "I never take off my jade necklace, it's a symbol of importance for both my family and my culture", says Prof. O. Walking through the halls Ms. O stunned in a greyish green sweatsuit layered under a grey peacoat, all elevated by grey yeezy's. It became clear, their layering game is undeniable and outmatched. Her color palettes may play it safe, but she is effortless in putting together cohesive and chic outfits. On the contrary of "safe" color palettes, Mr. Saunders is one teacher who experiments with bold and bright colors. Saunders is notable for his incredible outfit executions. Playing with color blocking and vibrant patterns, he draws inspiration from a number of things including cats and sneaker culture. At first glance his looks radiate 90's streetwear and popular culture. When asked what his signature looks and accessories are, Saunders noted, "Students would probably say my hats? Probably hats." If there is one thing to know about Mr. Saunders outfits, it's to expect the unexpected.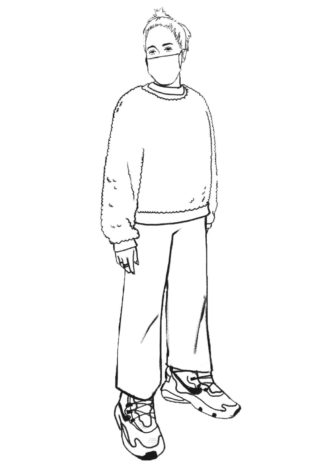 Clean cut casual is how some may describe orchestra teacher Mr. Kolk. He gravitates towards the collared shirt, sweater look. When spoken to he showcased an amazingly fitted blue Ombre sweater. The construction and quality of fabrics, plays a big role in his style and clothing choices. However the spotlight of his looks has to be his natural accessory- "my signature has been fluffy hair. I used to hate it, learned to love it, now just let it live its life." Say's Kolk. Whether it's suits, dresses, earrings, sailor moon or athletic chic, Garfield's halls serve as the perfect runway for the fashion show that is teacher style. 
Thank you teachers, for not only educating growing brains, but providing them with never ending faculty fits.
Art by Ava Fimmano
Leave a Comment