Golfing the Green at GHS
Not all sports are created equal.
It's 4:09 on a Thursday afternoon, and our golf team is squaring off against Chief Sealth International High School at Jefferson Park. No one is watching them play. It's no secret that some sports at Garfield are more mainstream than others. For example, cross country and football get much more attention than bowling or tennis. When it comes to golf, co-captain of the girl's team, Seneca Jessee, remarks that "only parents come to our games". Jessee knows that the sport has a steep learning curve and that it can take a while to fully comprehend it, confessing "I still don't really understand everything about golf, and I learn new things every time I play!" Not only can it be difficult to grasp the intricacies of the game, but students at GHS are required to provide most of their own equipment.
Due to a distinct lack of funding, members of the golf team are required to provide their own clubs, which can cost "thousands of dollars" according to Jessee. Senior Jordyn Lewis believes that the high price point shouldn't discourage potential golfers, emphasizing that "It IS a sport. It's not just for rich white people, it's actually really fun." Most of our golf team have a long history with the sport; Lewis has been playing since she was 4, only taking a break over the pandemic, while senior and captain of the boys' team Jack Jassy has been playing since middle school. "I'd been playing soccer in middle school and wanted to transition to a different sport…I lost my passion for soccer and wanted to try something totally different," Jassy said. Although Jassy is the official team captain, he points to Jack Theiss when asked about leaders on the team. According to the Bulldog Sports Journal, last year Theiss had the 2nd best Garfield score in the Metro League tournament, and this year he's consistently scored highly and managed to keep his round below 44. On the Bulldog Sports Journal, Theiss writes that he expects "Garfield golf to be a much improved program this year and we could very well be one of the best in the league", and expresses his confidence in the developments that the team has made over a summer that made the future of many sports at Garfield uncertain.
Although the team lost some very talented seniors and underclassmen, most of the remaining members, including Jessee, assert that the small team size is actually preferable to a large one. The golf team is just one of many sports at Garfield that doesn't get as much attention as it should, but its members are talented and affable, and the sport itself is played exclusively in large outdoor areas, greatly reducing the COVID risk. Attending a match is a great way for students who are interested to learn more about the sport and how it's played, and to experience the highs and lows of high school golf.
Leave a Comment
About the Contributor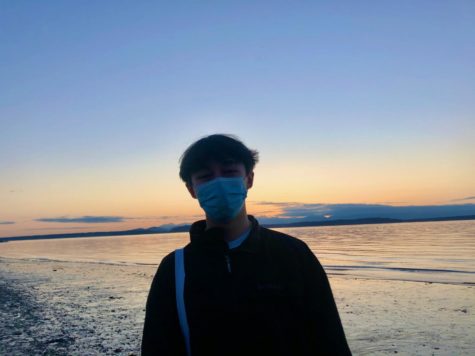 Layth Stauffer, Staff
Layth is a senior at GHS who enjoys spending time with either of his two Pomeranians. He's excited to join the messenger and take lots of pictures of student...