Back to 400 23rd Ave
The return to in-person learning.
Beginning April 19th, all Washington schools were required to offer a hybrid learning schedule to K-12 students. The sudden transition from fully online to partially in-person classes brings definite pros and cons, but after going to school online for over a year, it will take students and teachers alike some time to refamiliarize themselves with being inside the building.
The new schedule splits students into three cohorts: Cohort A goes to school in-person on Monday and Tuesday afternoons, Cohort B goes to school Thursday and Friday afternoons, and Cohort C stays fully online.
Washington Superintendent of Public Instruction Chris Reykdal explains the cohorts as an opportunity for students to collaborate with their peers and jump back into what a regular year would look like. "The last six to eight weeks of school should really be about giving students an opportunity to re-engage that system, those who want it, and then doing some pretty important evaluation of student learning and student mental health," Reykdal said. 
Reykdal added that he is working with Governor Jay Inslee to require every district to have a plan for fully reopening schools in the fall. Families will still have the option to stay remote if necessary. "Obviously, if there are variants and things go sideways, the Governor and I will reconsider that for sure, but at this point, we expect fall to be a very ubiquitous open," Reykdal said.
Garfield PE teacher Christopher Englund is hopeful about the effectiveness of hybrid school because of how much easier student-student and student-teacher interactions are in person. He has already noticed an improvement in the class dynamic and student work in the past two weeks.
"They are eager to engage and I think their learning will reflect that," Englund said.
As with many classes, he acknowledges the advantage of being able to speak one-on-one with students in-person to give direct instructions.
Englund expresses optimism about the effect this transition will have on PE class in the future and sees the shift as an opportunity to implement new activities and techniques. "With the smaller in-person class sizes, I'm going to try out some new activities that hopefully can be used once we are all back together." 
Staff members are also stepping up to the plate to make sure the adjustment goes as smoothly as possible. Englund's fellow teachers in the Quincy Jones building are focusing on keeping the flow of students in and out of the building safe and efficient.
Returning students are filled with a variety of emotions — ranging from concerns about safety to eagerness to be around people their own age.
Garfield senior Princess Asencio said that the feeling of isolation played a major role in her return to in-person school. "When it was all taken away from me I had no idea I would miss the littlest details," Asencio said. "I felt so isolated from everyone I knew and went to school with for the first time ever, and I think a lot of us who chose to come back felt the same way." 
Like many students, junior Ben Fleishman struggled with finding his way around the building after coming back to school. "I think I'm starting to figure out the layout again, but finding my classes ending up being harder than I expected since I haven't been in the building in so long," Fleishman said. 
Student-athletes like Fleishman and Asencio have the additional complication of attending after-school practices on days they otherwise wouldn't be on campus. "I have to get to school at 4:00 even on days that I'm fully online, but the [track] practices have been really fun; I've missed having the chance to run with people in person," Fleishman said. 
As of right now, the hybrid schedule is meant to be a shift that prepares students to go back to school full-time next fall. "The academics will always be there, and we'll get back to that in a much more traditional way in the fall, but right now it's about connecting people," Reykdal said. 
The transition into the new hybrid schedule hasn't come without unique struggles, but clearly, students and teachers alike are excited to be back in the building and learning in a more active, hands-on (and sanitized!) environment.
Leave a Comment
About the Writers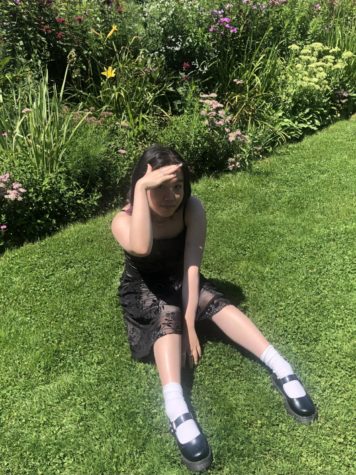 Nhu Tat, Editor in Chief
Nhu is a senior at Garfield High School and Managing Editor of The Messenger. She is committed to accurately representing the diverse Garfield community...