Bulldogs Against Humanity
A classic game with a Garfield twist.
We took it upon ourselves to revamp the fan-favorite "Cards Against Humanity" to center around Garfield and our unique experiences this last year, because someone had to. The game's rules as well as how to access our version is included below. You can read through the cards for a laugh, but we suggest playing the game with a few friends! 
Never heard of "Cards Against Humanity" before? Check out these basic instructions.
How to play our custom Garfield themed "Cards Against Humanity" deck:
1. Get at least 2 other friends.
2. Head over to MassiveDecks to play online.
3. Go to the "New" tab and start a new game.

4. In the drop-down menu for "Deck Source", select "ManyDecks".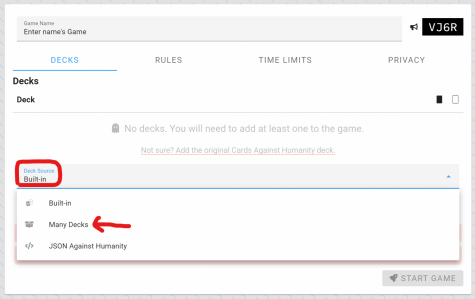 5. Add the deck code, "M4EV7" and press the plus to add our custom Garfield deck to your game.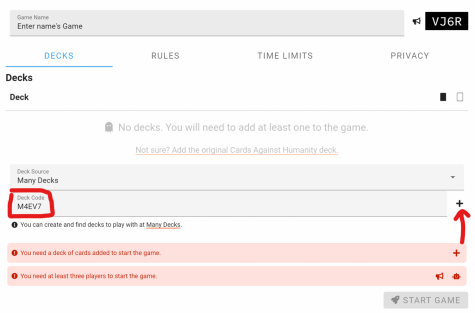 6. Optional: Play with your rules, time limits, and privacy settings.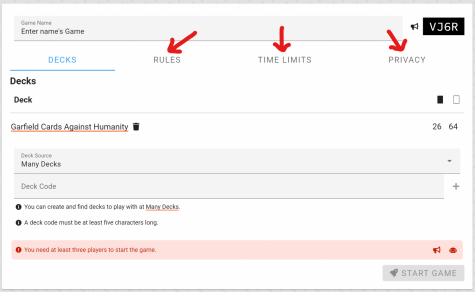 7. Click the megaphone icon to invite your friends. Players can enter the game code, use the link, or scan the QR code.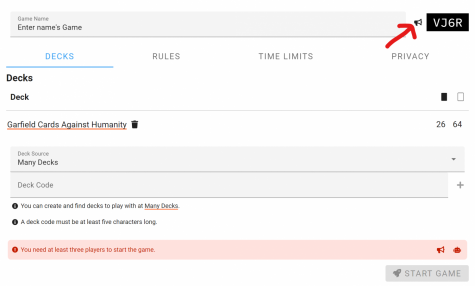 8. Once all players are ready, click the "Start Game" button.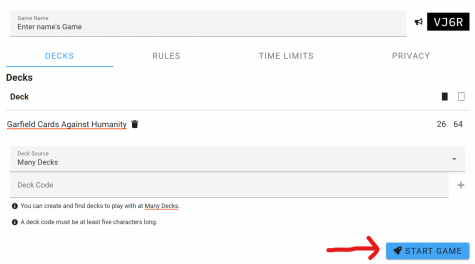 9. Having trouble joining a friend's game? Head to MassiveDecks, go to the "Join" tab, and enter the code.
10. Final step: Have fun and share your gameplay with us over on our Instagram, @thegarfieldmessenger
Tips/troubleshooting:
1. Use the orange button in the bottom right corner to select cards and move forward.
2. You can add robot players if you have no friends.
3. The website works on desktop and mobile!
4. Try printing out a physical version of the deck if you have the time and resources.
5. You can add blank white cards to add your own inside jokes and humor. Before starting the game, go to the "Rules" tab. Scroll down to "Comedy Writer" and turn it on. Adjust settings to your liking.
Leave a Comment