An Eventful Return
The start of the first day back.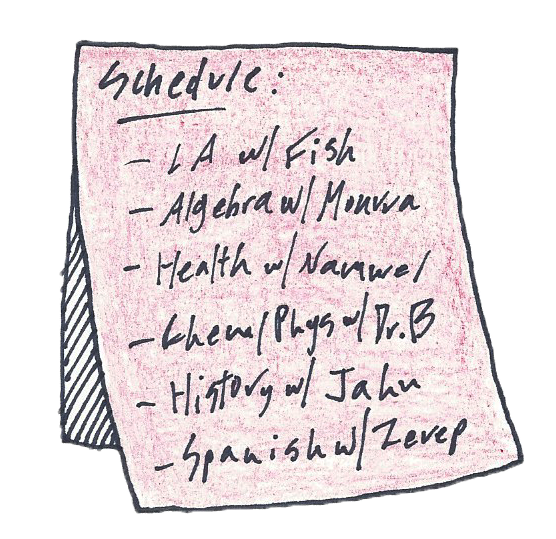 This article is the first of a series of adventures centered around a fictional student's return to Garfield. Vote on the poll at the end of the story to determine what happens in the next installment!
James stared at the mountain before him, what looked like 500 steps. His legs were weak from so many months of quarantine and the short commute from his bed to the computer. From the bottom, the prospect of reaching the top seemed as likely as climbing Mt. Everest. 
Two weeks prior the United States had reached 90 percent vaccination and schools had been approved to re-open. At 89 percent progress, there was still fierce debate and virulent rhetoric on both sides of whether or not it would be safe to return. At this new milestone, however, all but the most germophobic had ceased arguing and Seattle Public Schools resumed in-person schooling for the second semester. 
James tried to sneak through the crowded halls, navigating through the sea of students, many looking for classrooms they had never seen. He glanced over at a faded poster tacked to the wall next to the bathroom entrance, "Spring Sports sign-ups end in a week!". 
James reached the corner and found his first class, language arts with Mr. Fish. James poked his head into the classroom and saw a few students on their phones and decided to sit in the back of the class. For the first time in what felt like millennia, the sensation of sitting in a stiff mass produced plastic chair started to flood back to him.
There was a cascade of dings resonating from people each so absorbed that they did not realize their receivers were right beside them. One student finally looked up from their phone and glanced over at someone two desks to their right. "Hey, was your icon a walrus or something?"
When the boy answered no, he feared that he had been catfished via Teams chat but a voice a few desks down chimed in "I said two desks to your left." Their interaction reminded James of his own relationships made and broken with both parties never seeing the other in person. 
For second period James dashed in as the bell rang out. Mr. Monura was known to be a jokester and he started class off strong telling the chattering class to "mute their mics." This achieved the intended (if not awkward) silence in most cases but some students found the joke so funny a new commotion was created.
James's stomach growled as he reached his health class, but the noise was covered up as he slowly opened the door. The room was a battleground of senior voices and as the class started Ms. Namwel pleaded with students to settle down. The activity seemed unlikely to be completed today. 
James walked out to lunch and saw his friend Sophie, who he knew from Jefferson Middle School, waiting for him in front of the Quincy Jones, "What are you thinking for lunch?" she asked rhetorically; James's mom had packed him a sandwich but she insisted they go to Ezell's even though it had a line coming out of the door. 
After they had waited in line for 15 minutes they saw Zeke and his friends going into the gas station down the street. 
"You've got to be kidding me," James spat, "It's that guy who never showed up in the breakout room for our semester final, and kept using the sad face on all my comments when I pinged him. I almost failed that class."
With five minutes before fourth period, they finally got their food and ran back up the steps. 
Vote on the poll to determine what happens next… 
Should James settle his differences and bury the hatchet with Zeke or should he pick up the metaphorical hatchet and declare war on Zeke?
Confront Zeke and possibly escalate the feud. (62%, 8 Votes)
Settle your differences. (38%, 5 Votes)
Total Voters: 13
Loading ...
Leave a Comment
About the Writers
Adam Friesz, Staff
Adam is a senior this year and it is his second year on the Messenger. He is eager to advance the Messenger's goals of spreading awareness of interesting...