Self Expression Through Style
How Garfield's Black students are putting their identity on display with fashion.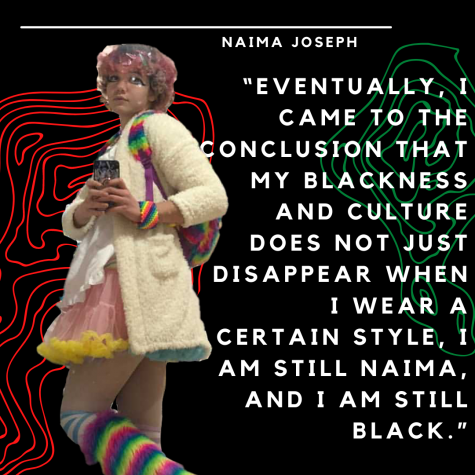 Naima Joseph
Naima Joseph is a freshman at Garfield this year. They would describe their style as falling into the "emo and lolita subcultures of alternative fashion". Currently, Joseph's favorite trends are petticoats, adding that they can accentuate an outfit, as well as plushie/stuffed animal backpacks. Alternatively, Joseph does not have a particular fashion trend that they like the least, however, they're not a fan of shoulder pads and tucking pants into shoes. Joseph gets most of their style inspiration from Melanie Martinez and their friend Andrew, whose style can be described as "trad goth".
Thoughts on inauguration fashion?
"I thought that it was great that Black designers such as Christopher John Rogers and Sergio Hudson are being showcased, especially at an event as big as a presidential inauguration, and I think it is a responsibility to represent your people' in a way, and that was exactly how to do it."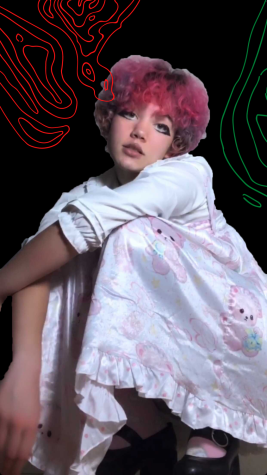 How do your race and identity play a part in your clothing and fashion?
"Race has been talked about daily in my household forever, and my racial identity plays a huge part in how I have thought about what to wear. I'm multiracial – Black, Desi (Indian), and white – and that can make figuring out identity hard. I also like to express myself through fashion, and I understand that clothes are racialized (I don't mean "traditionally" cultural clothes, but how one is read according to how they dress). I want people to see my Blackness but I also want to dress in alternative fashion, however, the fashion I love is seen by many as incredibly white. In other words, if you dress alternatively and you're a POC some people think you're "trying to be white." However, I also want people to know that BIPOC folks started MANY of the alternative fashion subcultures. Eventually, I came to the conclusion that my Blackness and culture does not just disappear when I wear a certain style, I am still Naima, and I am still Black."
What does fashion/style mean to you? 
"To me, fashion and style are ways to find people with similar interests and feel extra comfortable in your skin."
_____________________________________________________________________________
Nadia Caty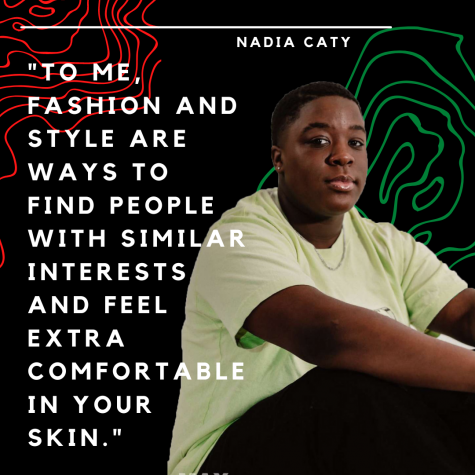 Nadia Caty is the junior class vice president this year. Right now, her favorite fashion trends would be described as streetwear and formal, including button-downs, leather jackets, sweats and slacks, with some of her favorite brands being Puma, Nike, Jordans, and Dr. Martens. Caty's least favorite trends are skinny jeans, bootcut pants, and "people who cannot balance out an outfit by wearing a fitted shirt with baggy pants or a complete fitted outfit". Some of her favorite clothing items stretch from handbags, beanies, and handkerchiefs, to glasses, bracelets, and anklets. Some people attribute her fashion inspiration to Oliver Forslin, Brent Faiyaz, Simon Decker, and Pharrell Williams.
Thoughts on inauguration fashion?
"I think Kamala and Michelle definitely had a message behind wearing Black designers at the Inauguration. Kamala and Michelle both stand by giving more credit to Black people. I think it was cool that they wore Black designer clothing. It would be weird for Joe Biden and Kamala Harris to bring more Black people into office, claim to be on OUR side, then turn around and wear clothing made by white people."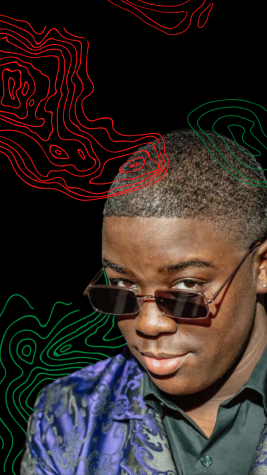 Do you think fashion is a form of self-expression?
"Oh absolutely, fashion is definitely a form of self-expression. You can switch it up according to how you feel, how you want to present yourself. You can switch up your styles, freestyle a little bit. It's not only a form of self-expression, but it's art!"
How does fashion play into your identity?
"As far as race goes, I feel like I avoid looking a certain way. I try not to sag my pants or wear things that would make me appear "ghetto", "hood", or "intimidating". There are just certain things that I, as an African American female fear and avoid every day when leaving my home. Living in America, being Black, the way you present yourself and those first impressions are everything."
_______________________________________________________________________
Kalani Rossman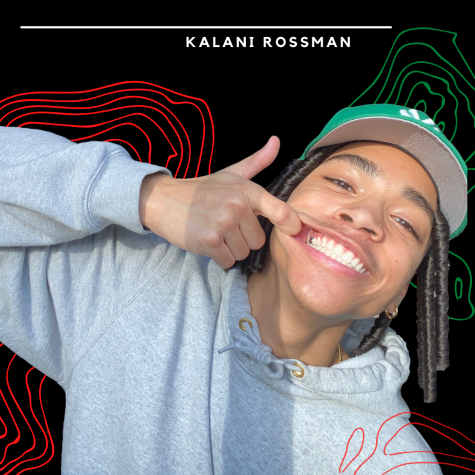 16-year-old Kalani Rossman is the junior class president. Rossman's style is a mix of 90's black culture and Japanese takes on American streetwear. His current favorite trend is Birkenstock clogs which are "like crocs but streetwear vibes". His least favorite trend is fake vintage style clothing. A current favorite accessory is a vintage CDG tote bag that looks like a paper bag covered in plastic. He shops vintage on Depop and Grailed. Rossman gets style inspiration from @isthisfate, @matuzakishohei, @curlyfrysfeed, and @diln_ on Instagram. 
What's your least favorite trend?
"That whole trend where they're trying to make vintage-Esque wear of artists. It throws off the point of it if it had been vintage. Vintage is really cool because you're giving an item a second life and you're cutting down emissions by a whole bunch. Just keeping and wearing it for a year or two after, if not more. It's really important. Like oh, we want to make more things and make a bigger carbon footprint but also look like it's not doing that."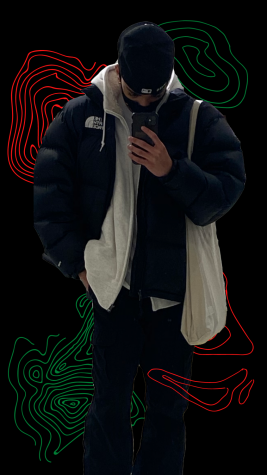 How do you think that your race and identity play a part in your clothing and fashion?
"I think a lot of pop culture today and for the past like 20, 30 years has been heavily inspired by Black culture and its development in African culture. We definitely take a lot of inspiration from it. And then along with that, it's just like, obviously with all that's happening now, you want to make sure you're supporting brands that are in support of you and your beliefs."
What does fashion or style mean to you?
"To me, it's just something that you can do to bring yourself up. We already have so many worries. We already have to deal with all this stuff that's going on in the world. And individual problems with school, work, family, and stuff like that. If you're going to go through all that, you might as well walk past the mirror and appreciate how you look. It's one less worry in your mind."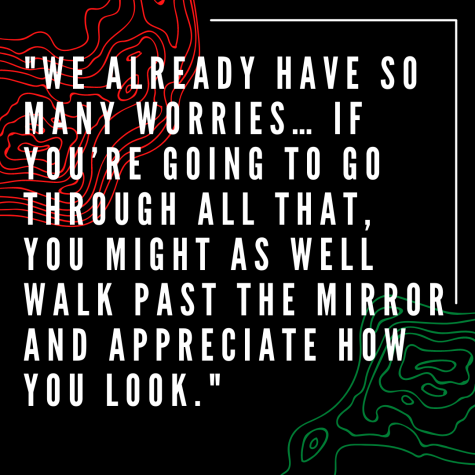 __________________________________________________________________________
Samiyah Allen
Samiyah Allen, a junior, is a 17-year-old "trendsetter". She describes her style as original, edgy, and trendy. Allen's current favorite trend is oversized and baggy clothing. Her least favorite trend is bell-bottom jeans. Allen loves to accessorize her outfits with rings, glasses, and mini purses. She primarily shops at Black-owned businesses and recommends the Instagram shops @bluehillbychiume, @b2flyyyy, and @flowerathletics.
Do you feel like fashion is a form of self-expression?
"Yes, I do feel like it's a form of self-expression. It brings out my personality. You can tell who I am by the way I dress. I care about my outfits, I put thought into them. But really, it just comes from me throwing something together and you can tell how I am from it. I love that about fashion. I love to express myself through that."
How do your race and identity play a part in your clothing and fashion?
"When I shop with Black-owned businesses, it makes me feel better about my fashion because we're standing together and helping [to] support while looking good. They put a lot of work into these businesses to make a good profit out of it. They do a really good job. I like that a lot about myself, how my race can stand out with other people. It gives us time to shine."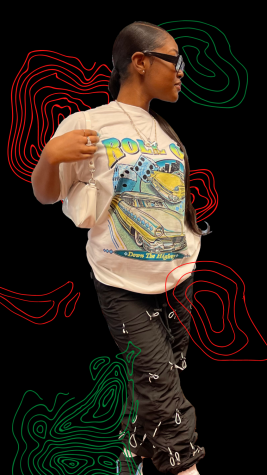 What does fashion/style mean to you?
"When you can take a trend and style it in your own way. It's a manner of you doing something but in your own way."
When did you first get into fashion?
"I live for shoes, but I never really thought about my style when I [used to wear] things. In 2020 and 2021, it's like I'm having a breakthrough with my fashion. When I used to dress, I used to care too much about what people thought. When the new year started, I let go of that and I broke through my shell. I dress how I want and how I want to because I don't care how other people think."
______________________________________________________________________
Nike Adejumobi
Nike Adejumobi, a 16-year-old Garfield junior, gets her fashion inspiration from celebrities like Sza and Tyler The Creator and people she's found on Instagram (@eristheplanet, @simply.cie, @wisdm, @aerincreer). Adejumobi describes her style as oversized and comfy streetwear, but switches it up frequently with other looks. Her favorite fashion trends include oversized clothing and sweaters, but she's not as big of a fan of neon clothing. Her current wardrobe favorite is a pair of khaki pants. 
Do you feel like fashion is a form of self-expression?
"Even though there are many different ways to express yourself to others, fashion is definitely something that comes from within and allows you to assert your individual traits without even using other forms of self-expression like speech or writing, which I think is super cool. And even though you might see a lot of people copying a certain style or wearing the same clothes, it doesn't mean that they're in any way lacking personality or just following a trend because it's a trend. I see it more like they subconsciously or consciously see a piece of themselves in those clothes."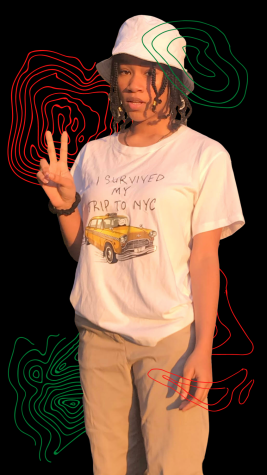 How do your race and identity play a part in your clothing and fashion?
"I am mixed: I have a Nigerian dad and a white mom, so being Black, it definitely feels good to wear clothing items popularized by Black people and Black culture like chain necklaces, bucket hats, sneakers. There are a lot more I could list off, but also just streetwear looks in general which are greatly influenced by Black culture. Also, my hair influences how I express myself a lot, and having afro-type hair means I can do a lot of different styles and looks with it which is always fun to do and a lot of times influences the outfit that I pair with that hairstyle."
What does fashion/style mean to you?
"Style can definitely be a way to express your personality or your current feelings, or it can even just be kind of a hobby. I'd say it can also be a stress reliever because I definitely can remember times when my outfit has just made my whole day better and more enjoyable."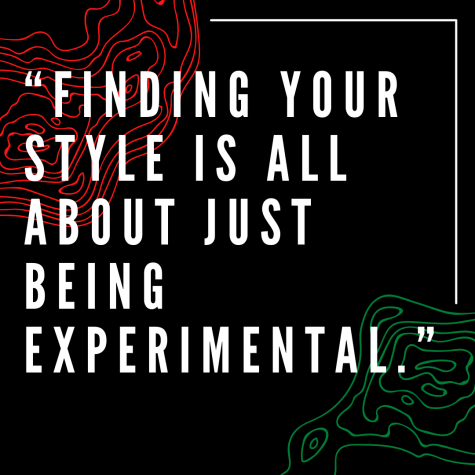 ____________________________________________________________________________
Tyra Griffin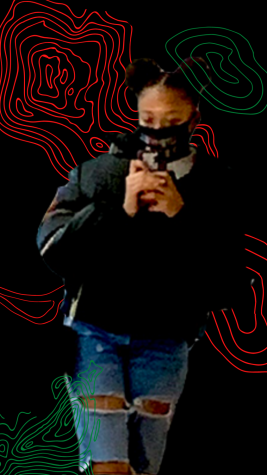 Tyra Griffin is 15 years old and a sophomore at Garfield. Griffin's favorite clothing trends are streetwear and puffer coats, she loves wearing graphic t-shirts and Nike Jordan's. Her least favorite trend is leggings with shorts. Griffin gets her inspiration from Tyra Banks, Naomi Campbell, Bella Hadid, Zendaya, Yara Shahidi, Broderick Hunter, Winnie Harlow, and others. She appreciates how all of these people worked hard to earn their place in the fashion industry.
Thoughts on inauguration fashion?
"I love Inauguration fashion. The outfits are so beautiful and unique. When I saw Kamala Harris wearing her outfit on Inauguration Day, it was so great. Although the outfits, [were] not the main focus, one thing you'll be remembered [for] is your clothes, so you should choose wisely."
Do you feel like fashion is a form of self-expression?
"Yes, I definitely feel like fashion is a form of self-expression. When you wear something that is comfortable, cute, or fancy, it makes you feel good about yourself. It's self-knowledge and self-confidence expressed through what you choose to wear. Fashion is in the clothes, but style is in the person."
How do your race and identity play a part in your clothing and fashion?
"Race and ethnicity play a part in my clothing and fashion by showing my history and culture. In today's society, people of different races and ethnicities can express their history and other things tied to who they are, but not that long ago people of color couldn't show their full selves. For example, Naomi Campbell mostly had her hair straight in her photoshoots and magazine covers and didn't show her natural hair. So, that just shows the improvement the world has had, but we still have some more work to do."
What does fashion/style mean to you?
"What fashion/style means to me is showing your true self. Fashion comes in many forms with many different people. I feel like everyone should be able to dress how they feel they can show the world who they are or to make a statement. Don't get me wrong, baggy clothes are more my thing, but every now and then I love to wear my dresses."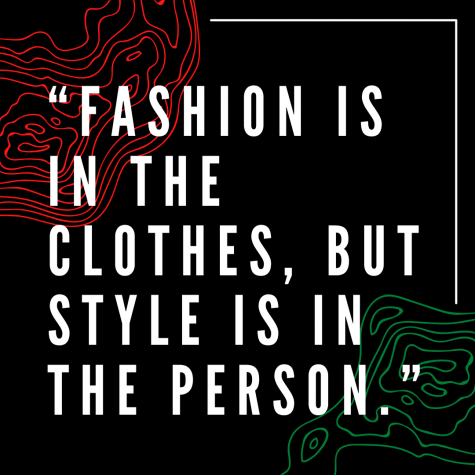 View Comments (4)