Put Your Blood to Work!
An overview of Bloodworks Northwest's current programs.
Founded as King County Blood Center in 1943, Bloodworks collected and dispensed blood to soldiers in Europe during World War II. Over the years, the organization expanded across Washington and Oregon, and the name was changed to Bloodworks Northwest. With 12 donor centers and regular mobile drives, Bloodworks supplies blood to 90 local hospitals up and down the coast, as well as across the country in special instances.
Or at least that's how it was before the pandemic. In mid-March, all of Bloodworks' mobile programs came to a halt. Planned blood drives at businesses, churches, schools, and colleges were canceled as Seattle closed up. However, the 12 permanent locations remained open, and Bloodworks experienced an unusual spike in donations throughout the spring. Despite this, hospital demand for blood decreased as nonessential surgeries were postponed.
"In times of crisis, people come to us because it's a really easy thing to do to feel like you're helping the situation," said Kyle Boynton, Donor Center Collections Strategist at Bloodworks. "The really cool and powerful thing about blood donation is that it's easy, and you know it's helping someone in your community."
Over time, Bloodworks began to resume their mobile drives by working with partners such as churches, community centers, and theaters.
"We've done a lot of fun, creative things since COVID," Boynton said. In Seattle, Bloodworks hosted a blood drive at the Paramount theater in their large lobby. They were sure to follow CDC guidelines, including wearing masks and sanitizing supplies regularly.
So how does blood donation even work? Bloodworks can separate three different components from a complete blood sample – red cells, platelets, and plasma. Red cells, which pass oxygen around the body, are used in trauma situations and surgeries to stop patients from bleeding out. Platelets help during chemotherapy and other procedures, while plasma is often used for burn victims.
In past years, 20 percent of blood donations came from high school and college students.
"We really want to partner with high schools and colleges to continue the message of the civic engagement duty of donating blood," Boynton said. "You're helping your neighbors, you're helping your family members, you're helping your community."
Bloodworks does two blood drives at Garfield High School per year, and they receive 40-50 student donations each time. To replace school-based drives in the time of the pandemic, Bloodworks has set up multiple programs for virtual blood drives. From September 20, 2020 to January 22, 2021, individual students or school groups can participate in either a Half-Day Takeover, where they commit to filling 25 appointment spots in one half-day, or a Two-Week Virtual Drive. For the virtual drive, the participant is assigned a unique code, which they give to as many donors as they can recruit in a two-week period. Both opportunities can earn at least $250 scholarships. Learn more here.
Bloodworks also offers a variety of volunteer programs, such as coordinating blood drives, registering donors, and promoting their program. Learn more here. Volunteering at Bloodworks is a great opportunity for students interested in working in the medical field – according to Boynton, it is a perfect "entry-level into the world of healthcare."
Despite the tumult brought on by the COVID-19 pandemic, Bloodworks Northwest remains a strong and essential facet of our community. Just in past years, it is vitally important for Garfield students to give back by donating blood: one resource everyone needs to live.
View Comments (1)
About the Writer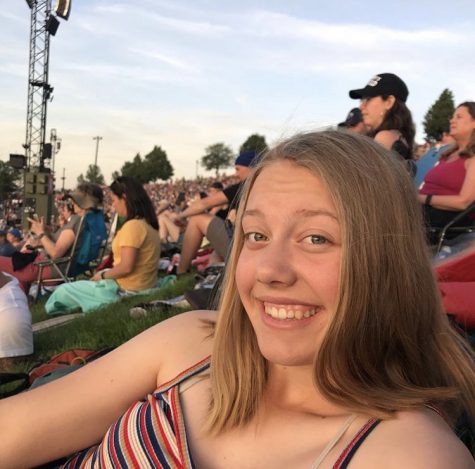 Maya Shelton, Staff
Maya is a senior and a first-year Messenger staff member. Her favorite things are (listening to) music, writing, creating art, and eating. She is looking...