Library Lockdown
The various impacts of library closures due to the pandemic.
When the COVID-19 pandemic struck Seattle in mid-March, it seemed every aspect of our lives was uprooted. Everything essential, from schools to restaurants to parks, were closed off immediately, and the library was no different.
"The library is really a unique space in a school, because it is one of the few open, public spaces that a student walks in and there is no judgement being put on them," says Tyson Manzin, librarian at Garfield High School. "To not have the space available does change what the library is."
The Seattle Public Library, too, has been heavily impacted by the pandemic. In the past, Emily Strickland, a senior at GHS, went to the library near her house several times a week to study and do homework. Strickland described it as "a useful, quiet environment."
At home in a five-person house, Strickland finds it difficult to work as easily. "With my family, it's a little bit harder to get stuff done," she says.
To most, the main resource offered by the library has always been books. With their doors closed, this resource has been cut off. Fortunately, SPL has managed to partially adapt to the pandemic. With Library Link, an asset that has been available to all SPS students for two years now, many services remain attainable.
"Every student has access to everything digital that the library has," says Manzin. This includes e-books, audiobooks, movie and music streaming services, newspapers, magazines, and more.
Unfortunately, this is not the case for the school library. "That is something I am trying to change," says Manzin, who plans to start helping students use the library virtually. They will be able to log in and place holds on books they want to check out. "My goal is to weekly look at the holds that have been placed, and [have] those resources available [for students] to get," says Manzin.
Another reason for the library's importance was that it "was the one space in the building where students could come and print whatever they needed," says Manzin. "There's just so much stuff that the students would use that printer for, and I really am worried about how students are doing that these days."
Fortunately, virtual school has naturally adapted to this, as all assignments are completed and turned in online.
Still, there is one more element that the library closure has taken away. "It's a social spot," says Manzin. "People would love to meet up there for all kinds of meetings, whether it just be with friends or with clubs."
Strickland, too, would often go to the library to study with friends. "It was nice to…be productive and social at the same time," she says.
Though many enjoyed the library for its various features, its closure has not affected everyone equally. "I'm fortunate enough to have it as an option, instead of something that I absolutely need," says Strickland.
Many take the library's resources for granted, since they have never had to rely on them. "I have internet at home, and I have my computer at home…I can access a lot of the resources that the library provided for me, but I know that a lot of other kids don't have that," says Strickland.
Concerning the future, Manzin has a grand vision for what he wants the school library to become. "It's no longer supposed to be the quiet and studious place," he says. "The library really should be…for collaborating and researching, but also creating things."
Through the pandemic, he hopes to drive forward this vision by helping teachers work more creatively with students. "Instead of having kids write essays, maybe they can produce videos, or produce podcasts, or they can produce some kind of artwork," says Manzin.
Nevertheless, it is clear that when we finally emerge from the pandemic, the library will never be the same. Let's just hope it's changed for the better.
View Comments (1)
About the Contributor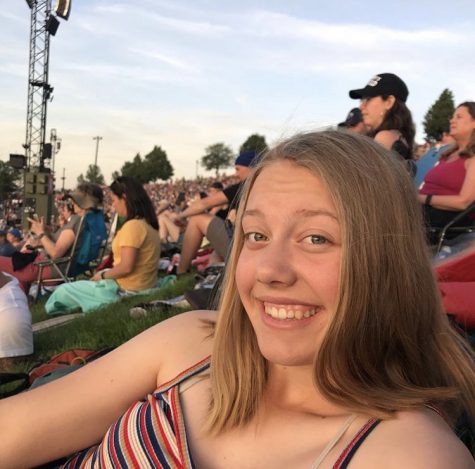 Maya Shelton, Staff
Maya is a senior and a first-year Messenger staff member. Her favorite things are (listening to) music, writing, creating art, and eating. She is looking...