Celebrating Black Excellence
A new mural for Garfield.
Garfield's Race and Equity team plans to honor Black Lives Matter week with a new mural which will be painted live by students and professional artists on the walls adjacent to the second floor balcony. Mr. Wray and Mr. Hagopian lead the project, in hopes to make this year's Black Lives Matter week one to remember.
"We wanted to tell a story connected to the topic of the month and week," Wray explained, "the mural is going to be painted live Black Lives Matter week, with the intention of it being finished Friday." This aggressive timeline presents students with a unique opportunity to watch the mural as it expands and progresses.
Previous Black Lives Matter weeks haven't left a legacy for future students, but a new mural presents an opportunity to create a long-lasting memorial to what Garfield stands for. Wray hopes that rather than be a time capsule, this mural will be something that, even in a decade, people can take something away from. "I wanted to focus on doing something," Wray said.
In order to make this mural timeless, the artists plan to lean away from depictions of specific people or events and instead depict concepts that will always be contemporary.
"It's going to be a continuous mural, and the gap plays a role too," Wray explained. "The wall on the western side will tell the story of the Black past and where the community has come from. The gap is the balcony, where everyone, especially a lot of Black students and students of color hang out. This represents the Black present. The wall on the eastern side represents the Black future," Wray said.
One of the most important questions is how to represent the "Black future." What do Garfield's Black students want Garfield's future to look like?
"It's not Afrofuturism per se," Wray said about the Black future wing of the mural, alluding to the Black futures depicted art like Janelle Monáe's "Q.U.E.E.N." or Black Panther. Rather, the mural will depict "visions of Black excellence and Black success."
"We live in a society where we're very reactionary. We go from reacting to one tragedy to the next, and we rarely have time to create visions for ourselves and where we want to go. The Black future is an opportunity for people to engage in a conversation about what tomorrow looks like in an ideal world," Wray said.
That conversation is why it's important to involve Garfield's Black students in the project. Around ten students will be assisting in painting the mural, whose work will be supervised by four professional artists and experienced muralists: Afro, Perry Porter, Talia, and Max. Wray described them as the "creative directors" of the project; they designed a working draft of the mural (which is not yet finalized), and they will help students implement the mural's vision onto Garfield's walls.
To select the quartet of artists, Wray got together with students and brainstormed local artists whose styles the students liked, and reached out to see if they'd be interested in joining the project. Both Afro and Porter's past murals have celebrated their communities, and they will celebrate the Central District in Garfield's new mural. the current draft features the Red Apple, a local grocery store and Central District landmark that was demolished to make room for condos.
The new mural will serve to create new visions of Black futures and Black excellence within the walls of Garfield for years to come. What will these visions look like? Check them out for yourself during Black Lives Matter week!
Leave a Comment
About the Writer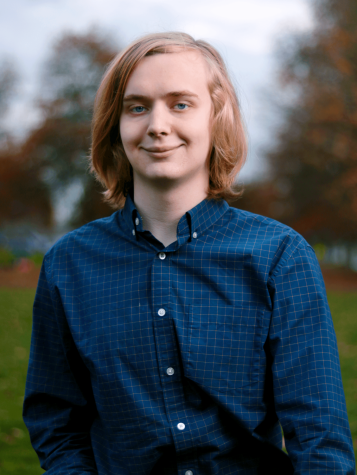 Benjamin Thomas, Staff Writer
Garfield 2021. Avid fan of boba, cats, and rocks. Not particularly in that order.