Changing Places
A look at Seattle Public Schools through the eyes of Garfield's international students.
Sebastian Sotelo
Sebastian Sotelo lived in Mexico City for 16 years before moving to Seattle and starting his senior year at Garfield this September. In Mexico City, Sotelo had a private education, attending two American schools over the course of eleven years. Before coming to Seattle permanently, he had spent substantial time in the United States. His family spent a year in Washington DC, where he attended a public school. Sotelo is part of the Garfield-Franklin lacrosse team, and he enjoys photography.
Felix Stpierre
Freshman Felix Stpierre arrived in Seattle this past August. He is originally from Beauport, the capital of the French-speaking Canadian Province of Quebec, where he lived with his mom and five siblings. Until now, Stpierre had lived in Quebec his whole life and spent nine years in two public schools. In Quebec, Stpierre participated in a language-learning program that brought him to the United States several times. He has been to Boston, New York, Chicago, Florida, and now Seattle. Stpierre loves to ski, and enjoys reading as well. His favorite book is Harry Potter.
Jason Edwards
Jason Edwards, a junior at Garfield, returned to Seattle after living in a small town in Veracruz, Mexico, from the ages of 11 to 16. The move was pushed by his parents ambition to start a restaurant. He attended a small, private K-12 school during the time he lived there. After a couple years, his parents returned to the States while he stayed in Mexico with his grandparents. In his free time, Edwards loves to play soccer and produce electronic music.
Phaedra McArdle
Phaedra McArdle is a senior who has lived in Hong Kong, China, the majority of her life. Though she was born in the United States, her parents followed a job offer that situated their family in Hong Kong at age three. What was going to be a two-year job extended into an opportunity that spanned the majority of her childhood. McArdle stayed until she was fifteen. She attended both private Chinese and international schools during her stay there. Due to her parents' encouragement to become bilingual, she is fully fluent in Chinese. She enjoys humanities and the arts and hopes to become a linguistic archeologist some day.
On School Safety:
The prevalence of school shootings in the news and the regularity of lockdowns have had a numbing effect to the American student population. So numbing, in fact, that it is easy to forget that school safety is rarely a concern, let alone a partisan political issue, in other countries.
At Sebastian Sotelo's school in Mexico City, safety precautions were only for natural disasters, as opposed to a human threat.
In Veracruz, Jason Edwards had a similar experience.
"In Mexico, [school shootings] weren't really a thing at all…the most that can happen is just people getting in huge fights…it never really goes to the point where [your life] is threatened…" he said.
Although designed to keep students safe, new rules like the hall pass vests and door restrictions have made Garfield students hyper-aware of this looming, unspoken threat.
While schools in other countries may have similar regulations, they are for alternate causes.
"There are a lot of rules, like taking the jacket when you go to the bathroom there [Quebec], but it is for very different reasons. There we have very good gun safety, so they don't tell us what to do during a mass shooting, because they just don't happen," Felix Stpierre explained.
"The reason why they control us like that is to make sure we are following all our classes. Here at Garfield, I feel safe now. But during the first weeks I was always stressed…I was like 'they don't have gun safety here, am I going to get shot?' but now I am okay."
This being said, for students like Sotelo and Phaedra McArdle, both of whom went to private schools, the presence of security officers at school is nothing new.
"The American school I attended had a lot of cops because there were a lot of very important kids, like kids of politicians. So the politicians either had security outside of the school, or private security inside the school. It was really wild," Sotelo said.
On Post High-School Expectations:
At Garfield, students are rarely presented with any viable post-high-school options other than attending a four-year college. Community college, vocational school, apprenticeships, and other work opportunities are unfortunately often viewed as lesser, and not as impressive.
Outside of the United States, post-high-school expectations are more dependent on the type of school one attends. At the American school Sebastian Sotelo went to, "the expectations were good colleges in Mexico City, or colleges abroad." Compared to" public schools in Mexico, basically 65 percent of people just went into the workforce, and the rest would go to college," he said.
At these colleges in Mexico, "a lot of people study business management because a lot of people want to open up restaurants and businesses," Jason Edwards added.
In Felix Stpierre's home of Quebec, however, following high school most students take a different path.
"We can't go straight into university because we miss senior year (due to the provincial system), so we get to go to a thing called sejour, where you spend three years working on what you'd like. So when it's time to go to college, you can know what you really want to do," he said.
But even though students have this opportunity to figure out what they want to do, the pressure put upon them is often just as, if not more, oppressive than here.
"[The expectations in Quebec are] to go to college, but more intense [than here]. People here are like, 'go to college, and if you don't like it you can change your studies or do something else.' But there, if you don't go to college as soon as you are done with sejour, you are not employable, you are going to be homeless… People say 'choose very well and take the time, because you don't come back,'" Stpierre added.
On Perceptions of American Education:
There is much to be learned from the public and private education systems in other countries, as well as the personal experiences of the students who are able to compare those schools with American institutions.
One major takeaway from Garfield's international students is that a government's investment in public education is the one thing that has the greatest ability to make major and lasting change for a country's youth.
"In general, China invests more in their public schools than the US does…I feel like the US should take a lesson from that," Phaedra McArdle noted.
In Quebec, public education funding has eliminated most educational inequity.
"Before, you could get a better education in a private school. But now, the government invests way more money and time in public schools. So now, all that a private school can offer you, a public school can do it. All you need is good grades," Stpierre said. "There is no such privilege for rich people in school. Everybody starts there, and everybody finishes there, rich or poor, you decide how far you can go."
And yet, while there is room for improvement in American public education, it is incredibly important to not neglect the privilege American students have, solely by being able to be in this system.
"There's lots of resources here…everything is online…the Source, you can check your grades, everything's like neatly organized," said Jason Edwards.
"A public school in Seattle, or in the US, is a pretty nice private school in Mexico," added Sebastian Sotelo.
Sotelo encourages American students who don't value this relatively high-quality education they automatically receive, to look outwards, and think about the state of public education in Mexico, and other countries all over the world.
On Work Ethic/Intensity:
For many students at Garfield, it is safe to say that one can expect the amount of homework they get every night: if there are variations, they can be attributed to class difficulty or grade level.
If one steps outside of the United States, however, a lot can change.
Phaedra McArdle realized early in her childhood in Hong Kong that tutors outside of school were central to maintaining exceptional grades and getting assistance with the 3+ hour homework load a night, starting in fifth grade.
"I was relatively good in school," she said. "But I didn't realize that it's just part of the culture there that everyone has tutors and everyone has their parents helping them with homework, and your kids' schooling is the most important thing in your life."
The experience of international students also amplifies the difference in pace and difficulty of American schooling.
It's a big switch for international students, used to working at a different level of intensity, to adjust to American schools.
"Tests and projects and homework here are way easier than in Mexico," Jason Edwards said about his Veracruz private school. "Normal tests there are like seven to eight pages long, and projects…they give you like a week to finish them, and they're like really big."
It came as a surprise to McArdle as well, taken aback at how slowly classes moved and the significant difference in the standards of work in the States.
"The first year I was here, it was sophomore year, and I was like 'I read that book four years ago, where is everyone?' which I think speaks a lot to the quality of the education system here," she said.
While unsurprisingly yielding higher quality work among students, these intense classroom environments have drawbacks on mental health.
"We didn't know how much we were oppressed by school before I came here," said Felix Stpierre, who worked vigorously under the French Canadian school system. "We were robots. It's like do you work, do your work, do your work, and there are no other options for you."
On Social Sphere:
School is often associated with tests and books, but in truth, a large portion of a students' educational experience is the social aspect: making new friends, learning to deal with conflict and working in teams.
That being said, what one does outside of school with friends is equally as useful as culture within to understand the social differences between other countries.
Like any other high school in the world, partying is a pronounced part of free time, but it's not the same as American parties. Sotelo credits this to drinking age, which in Mexico is 18.
McArdle had a similar experience: kids starting to experiment with drinking and drugs sooner, and with more intensity.
"A big part of my middle school experience was sitting in ambulances with people," she said. "If you have people who don't have consequences lined up, and they have the money to do whatever they want, it just will happen, so it was definitely more drug and alcohol-heavy sooner."
Inside of school however, the unpleasant baggage of cliques and drama follows students, even when one steps outside of the US.
Jason Edwards says a lot of it can be credited to the size of the school.
"There was a lot of stereotypes and social groups and it was definitely like less of a friendly environment," said Edwards about his experience at his small school in Mexico. "…Since everybody knew everybody, it was easy to not get along with someone so a lot of people didn't."
There were social divisions that ran deeper than just small schools, though. Exclusion was brought on in many forms.
Sebastian Sotelo described his experience with social groups as one attributed to wealth or status, at the American school he attended.
In Hong Kong, divisions were obvious and racially-based. As a newcomer, McArdle felt isolated in social groups: the two options being white, expatriate students and native Chinese students. She felt that she fit into neither, as she was fluent in the language and comfortable in the culture, but also white.
"Of course there are still many aspects of white privilege that carry through to China, but Chinese prejudice and racism is different than it is here," she said. "[My friends] nickname for me [was] this old Hong Kong derogatory term for white people, which is 鬼佬 (White Devil)…it just kind of became part of my identity."
Leave a Comment
About the Writers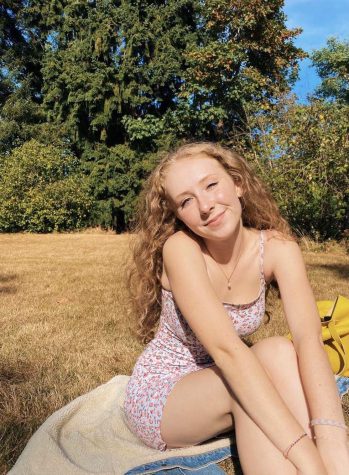 Grace Chinowsky, NFO Editor
Grace Chinowsky is one of two NFO editors this year on Messenger and this is her second year on Messenger. She has always enjoyed writing, whether it's...
Annabelle Frockt, NFO Editor
Annabelle is one of two News, Feature, and Opinion editors on The Messenger this year. She is a senior, and this is her second year on the paper. She hopes...