Get to Know: Jamya Jones
Sophomore singer takes the stage.
Stage fright can afflict even the most confident people, especially when competition is involved, and for sophomore Jamya Jones it was no different. But in spite of her fears, she made it onto American Idol. In August of 2018, Jones auditioned for the upcoming season of the renowned television talent show.
"I have stage fright, I didn't start coming out [to perform] until seventh grade" Jones said. "It was still lowkey hard." Yet just three years later, here she is. Jones started singing at the age of four. Early in her life, her mom encouraged her love of Whitney Houston, who is now her main musical inspiration and one of her favorite artists.
"Whitney Houston is where everything came from" Jones said, explaining that her passion for singing began with listening to Houston's songs. Some of her favorites include, "I Will Always Love You" and "I Have Nothing", the latter of which she sang during her audition for American Idol.
After waiting for hours in a room packed with people practicing for the auditions, Jones stood in front of a judge, ready for the first round.
"The judge with me told me to stop singing and then she said to sing another song, but I didn't have another song in my mind yet. That's when I did the Whitney Houston song, and it came in clutch, she loved it." Jones said.
"When everyone else was auditioning she was on her phone. When I auditioned, she put her phone down, put her hand up to her face, and was really listening."
Jones was the only soul and R&B singer who sang in the auditions that day as well as the only high schooler among the 20 year olds who made it.
"When she called us all up she said that none of us had what she was looking for, except for me." Jones said. She was pushed through to the second round of auditions, and wowed the judge again, securing herself a place on the show.
"I wanted to cry, and I don't really, I don't cry." Jones said of her reaction upon hearing she had made it. "I thought it was a dream to be honest, because we stayed in there for twelve hours."
However, her joy was accompanied by trepidation, as the other contestants around her were all older and seemingly more experienced.
"They're all 20 year olds, grown, they've at least had some experiences with vocal coaches. Mind you, I taught myself to sing, I didn't have all the extra stuff…they've been doing concerts, I've only done national anthems and stuff like that" Jones said. But even though the season hasn't aired yet, Jones is already being noticed in the musical community.
"I think there's a lot coming my way…certain people from different areas have looked out, seen me, tried to talk to me about writing music" Jones said. "People have said 'oh, we need to get her in the studio, see what she can do with this and that'."
Jones almost didn't go to the auditions, because she didn't trust she could do it and thought it to be a waste of time.
"You know, there were thousands, 1600 people that came and auditioned. My first judge, she had 500, 600 kids audition for her, she passed six of them." Jones said. But ultimately, she was one of the six that made it through.
"Don't be scared," Jones advised, "Sometimes the people who you think have the most talent, they're always missing something you have…If you don't think you can do it, just try anyway, because you don't know what could happen."
View Comments (1)
About the Contributor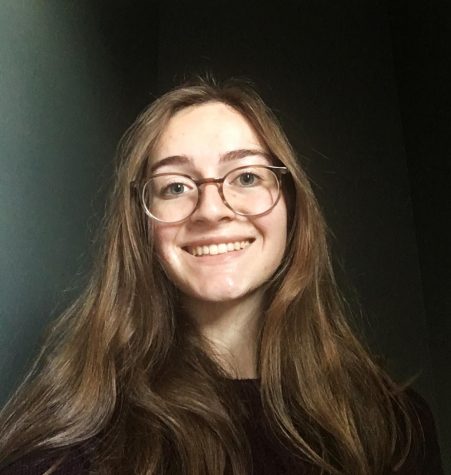 Molly Chapin, Visual Editor
Molly Chapin is a senior at Garfield High School, and this will be her third year working on The Messenger. She is now the Visual and Website Editor, and...