An Artistic Opportunity
The SAM opens its doors to young artists.
The Naramore Art Show takes place in April and May every year, in the community gallery of the Seattle Art Museum. It showcases around 200 exceptional works of art and photography from the Middle and High schoolers of Seattle Public Schools. The show began in 1985, and was named for legendary Seattle architect Floyd Naramore, who was known for designing public schools across the city, including Garfield itself.
"Students who do the Naramore Art Show are at a stage where they're still learning, but they also realize that they don't have to do things the way others expect them to," said Bonnie Hungate-Hawk, chair of Garfield's Fine Arts Department. 15 students from Garfield are invited to participate each year, split between those from Advanced Photography and AP Studio Art. In years past, GHS students often place high in the rankings. Most recently, Zoe Russell won first place in 2017 with her portrait painting titled "confusion." The year before, another Garfield student, Hana Beronja, won second place in Drawing with her detailed work.
"Because the show has been chosen to be at the Seattle Art Museum, it legitimizes the effort that has gone into each piece," Hungate-Hawk said. Many younger people pursuing art struggle with finding a concrete sense of where they stand in the artistic world.
"With a venn diagram between being an artist and being a teenager, in the middle is that people don't take you seriously, or that it's hard for you to take yourself seriously," said sophomore Ilah Walker, an AP Studio Art student. But the Naramore Art Show offers a way for young artists to share their work in a professional setting, providing an affirmation of student talent on the grander scale of an actual museum.
"The first photos I remember taking, and taking seriously, were for a club we had in high school" said Corey Louviere, CTE instructor and photography teacher at Garfield. Many artists get started around high school or middle school, and having the opportunity to have art put on display to share with others can be really impactful. Both Hungate-Hawk and Louviere encourage students to jump on whatever opportunities for exposure they can, and to take the risk of putting themselves out there.
"Recently I got a grant from Albertsons Companies where we're showing student work in the outside display windows of the Safeway on 15th" Louviere said. This is just one other example of opportunities like the Naramore show that give students a chance at exposure, and to show off their work.
"To me, art in general is really, I think, the essence of life" Louviere said. This seems to be a universal truth in the world of art, one that the Naramore Art Show exemplifies and upholds.
"Being an artist isn't really a question, it's just a part of who you are," Hungate-Hawk said. "In a society where there are a lot of people always telling you what you need to do, any time a student is encouraged to speak their truth or express themselves through a different medium empowers them to think as an individual."
About the Writer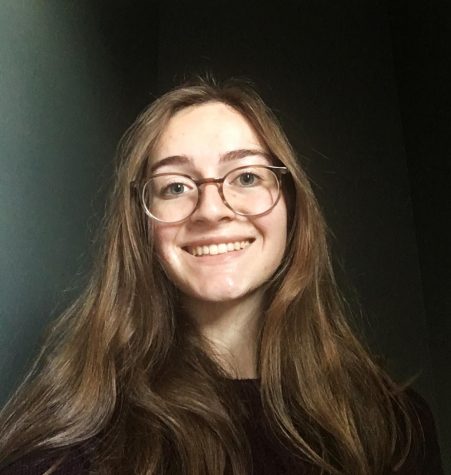 Molly Chapin, Visual Editor
Molly Chapin is a senior at Garfield High School, and this will be her third year working on The Messenger. She is now the Visual and Website Editor, and...