Teaching for Black Lives.
A look at Garfield's own Jesse Hagopian and his book.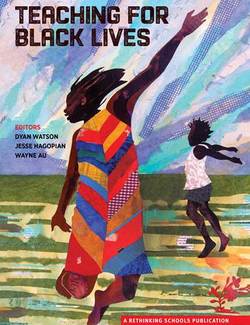 Jesse Hagopian is one of Garfield's most beloved teachers. Students have raved about his ethnic studies class, calling it one of the best classes they've taken. Now, after publishing his second book, he hopes to be able to impact people beyond his classroom.
For years, Hagopian has been extremely active in social movements, particularly the Black Lives Matter movement. He's taught countless students, given speeches, and has participated in many events. But it was one event in particular that led him to publish another book.
"Two school years ago, on October 19th, we organized the first day of the Black Lives Matter movement at school, with thousands of teachers wearing the shirts to school," Hagopian said. "Many taught lessons about institutional racism. But some weren't comfortable with the idea, so we wanted to create a resource for these teachers to teach against racism in their classroom."
Creating a book for others to use and analyze would be a hard task for anyone. But factoring in institutional racism only makes this task more difficult, so Hagopian enlisted help in order to make Teaching for Black Lives a masterpiece.
"I partnered with two different professors: Professor Dyan Watson from Portland, and Professor Wayne Au from The University of Washington, Bothell," Hagopian said. "They're both long time anti-racism educators who've put out other books on the topic, and to be able bring in my experiences and lessons from my class and combine it with their expertise was amazing."
As raving book reviews come in, it is clear that this trio gelled well.
"It's been incredible to see all these messages from teachers across the country saying how they've just bought the book and how they plan on using it."
With nationwide buzz surrounding the book, Hagopian has big hopes for the movement.
"I hope in ten years that we're able to make dramatic strides here in Seattle, and also across the country," Hagopian said. "I know this book alone isn't going to create that change, but this book can help educate more teachers on why they should be a part of the movements that could make that change."
But the change Hagopian envisions isn't simple, and this is something that has been affecting minorities for years.
"There's three demands for Black Lives matter in school movements. Changing zero tolerance to restorative justice, hiring more black teachers, and bringing ethnic studies to more schools," Hagopian said. "We've been a part of initiatives that have dramatically reduced suspension rates, which correlate to stopping the school to prison pipeline, which directly affects people of color."
Something that makes Mr.Hagopian stand out is that he realizes that there isn't a single black story, but endless different ones.
"We have a section of the book where we focus on black identity," Hagopian said. "We really take an intersectional approach to it. Because although we know all black folks experience racism, there isn't one black identity. We look at black muslim identity, black LGBTQ identity, black woman and man identity. The list goes on and on."
As he specifically targets the black community as a whole, Hagopian knows he can reach them in a positive way. But he hopes he can affect an even broader audience, especially here in Seattle.
"We really also wanted to target educators, because we know the book could have a powerful impact in the classroom," Hagopian said. "We received a huge boost to do this with the book when Macklemore and Michael Bennett bought a copy of it for every middle and high school social studies and language arts teacher in Seattle Public schools."
Hagopian also plans to take matters into his own hands in order to help teachers further understand the book.
"I'll be doing a study group for all the teachers in Seattle that are getting the book," said Hagopian. "So in November [we] teachers will come together and talk about how best to use the book, and help prepare oursevles for the black lives matter at school week so it can be better than ever before."
Mr.Hagopian has sacrificed many hours of his life to serve his community and his people. He teaches about great activists such as Martin Luther King Jr., Malcolm X, the Dixon brothers, and the selfless acts they did to get to where they're at now. With, Hagopian's own selfless acts and work in the community, maybe one day we'll mention Jesse Hagopian in the same breath as the historical figures he teaches about.