A Robotics Rampage
Sophomore Hazel Pearson leads Garfield Robotics to the World Championship.
Ten-year-olds often spend their time playing tag at recess or trying to learn their multiplication tables. However, when Garfield sophomore Hazel Pearson was ten she was learning Scratch, a beginning programming language that is the same basic code students learn in the Intro to Computer Science class at Garfield. Pearson grew up in a household focused on Science, Technology, Engineering and Math (STEM).
"My dad is a computer programmer, so when I was 6 he tried to teach me how to program, which was kind of a catastrophic failure," joked Pearson.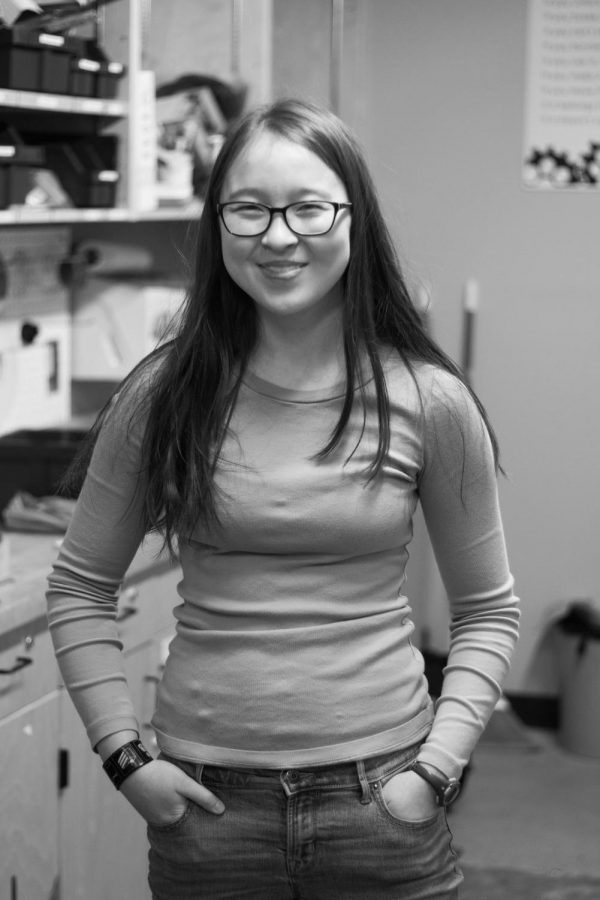 As Pearson grew up, she continued pursuing her interest in STEM fields by joining the programming club at Seattle Country Day School, as well as taking online programming classes at the University of San Diego. Pearson took the AP Computer Science test as an 8th grader and proceeded to become the first freshman to take Project Based Computer Science at Garfield.
"It was my first class ever at Garfield—15 seniors, a junior and then me. So I will admit that it was a bit intimidating on the first day, but I quickly got used to it," said Pearson. "I remember the first question I got was 'how old are you?'"
While Pearson was pursuing her passion for programing, she was also becoming increasingly aware of how prevalent sexism is within STEM fields.
"I very distinctly remember that summer between 7th and 8th grade when I was trying to look for more STEM things to get involved in, and I signed up for a girls programming class." said Pearson "I remember that it was a beginners class, as though being a girl involved in programming meant you had to be a beginner."
However the sexism in STEM industries is not limited to this one programming class Pearson took—it's deeply ingrained in society.
"I think the sexism in STEM is not one company or one thing so much as an inherent way that society handles girls so it's hard, you're basically fighting all of the gender roles and expectations for what a girl should be, said Pearson.
As a Captain and Programming lead of the Garfield Robotics top team, Pearson has taken steps to combat sexism within STEM. Out of 25 total Garfield Robotics team members there are only 5 women, which is consistent with the industry standard. However, Pearson works hard to elevate the voices of these women.
"I encourage girls to try and take more of a leadership role," said Pearson.
Under the leadership of Pearson, the Garfield Robotics team is undergoing a historic season. Not only do they have two teams this year, but Garfield Robotics has advanced the farthest in history and won some of the most prestigious awards in robotics.
The Robotics team is competing in the FIRST Tech Challenge; a series of elimination competitions which can qualify them for the next round. The final competition, which only the top 2.5% of all robotic teams worldwide make it to, is the World competition.
The first elimination contest starts off small, at a local level. The Robotics team dominated winning two awards and advancing to the state competition for the first time in the club's history. The club's success did not stop there; they won the most prestigious award in Robotics.
"Everyone [in our team] just falls utterly silent, hoping, because this is the award we so desperately wanted and then there's this slow, dawning realization that it's us and that's when they announced it. There was a lot of cheering, screaming and hugging," recalled Pearson.
After winning the Innovate award, Garfield Robotics secured their spot in the West Coast Championships which were held March 9-11 in Spokane. Only the top 5.5% of all Robotics teams in the West Coast make it to the Championships. After a series of hard
fought matches, the Garfield Robotics team won the top award possible yet again, the Innovate award which marked them the most innovative robotics team in the entire West Coast.
The next stop on this historic season for the Garfield Robotics Team? The Robotics World Championships in Houston, Texas this April! However, in order to compete in Worlds, the Robotics team needs the funds to get there. If you able to support this historic season there is an opportunity to do so here; https://www.gofundme.com/team4042