Masculinity in Hip-Hop: Taking the Mask off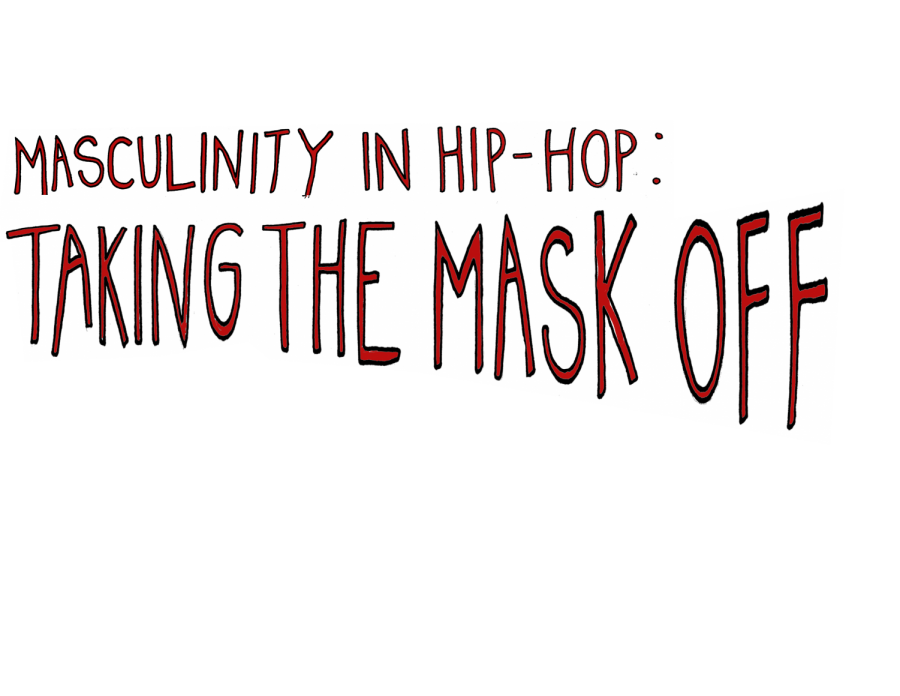 In 2017, with new projects like Tyler, the Creator's "Flower Boy," Brockhampton's "Saturation II," and countless others, music has grown as a communication of identity. Artists have stopped adhering to the classic masculine mold of the traditional hip hop artist and have introduced more feminine and emotional features into their music, telling the whole story of who they are. In addition, many artists have come out in the past year, pioneering a safer space in the genre, making 2017 a radical year for music.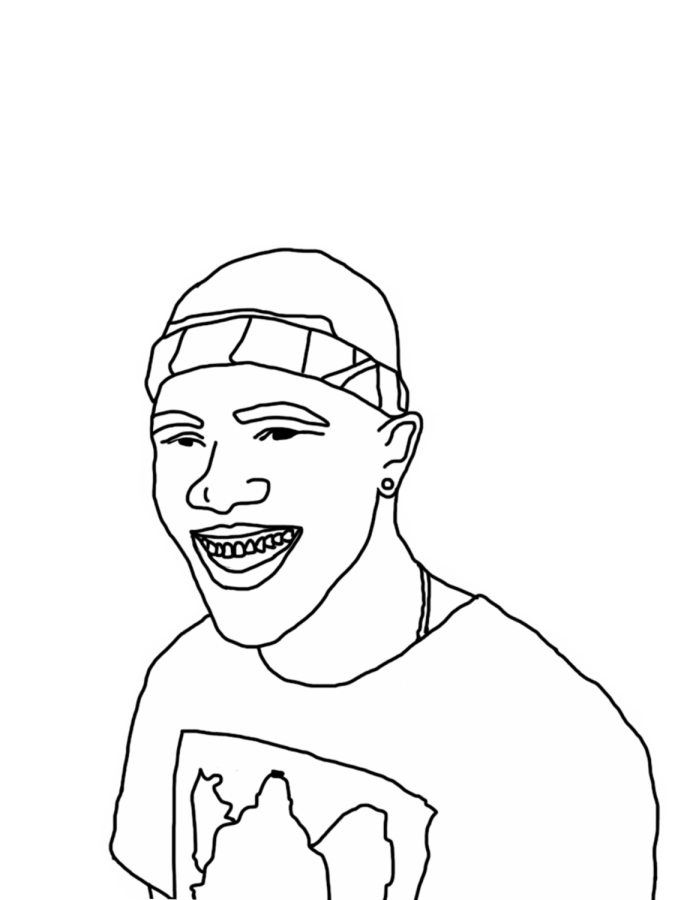 This was a year when Jay-Z told told himself he "gotta get softer", Tyler the Creator told listeners "you don't have to hide", and Frank Ocean fell in love with a guy "pretty like a girl." Young Thug wore a dress on his album cover, and Lil Uzi Vert wore a woman's shirt because it was "cute". Instead of suffocating under rigid ideas of what it means to be a man, the rap world today is subverting such strati cations, and empowering all to do the same.
In hip-hop, subversions like these are revolutionary. Back in hip-hop's golden age, the Beastie Boys at- tempted to title their 1986 debut al- bum Don't Be a F*ggot, and main- stream artists routinely described hurting homosexuals. Though revolutionary in its political expression, artists of the era rarely dared to express themselves emotionally, and those who did, like MC Lyte, Lauryn Hill, Lil Kim and Nas, were truly out of the ordinary. The shift from such emotional concealment to today's expression may appear sudden, but this revolution has been almost a decade in the making.
"Hip Hop is a tool that artists use to address the system of white supremacy, patriarchy, heteronormativity, disability, oppression, and capitalism," said Third Andresen, hip hop archivist at the University of Washington. This political resistance incorporated aspects of Black male masculinity that gave men power that they lacked in a white dominated
society. For this reason, Black male masculinity was characterized by style, power, and social and sexual confidence.
Throughout the 90's and into the 2000's the mold of the stoic rapper tightened into a business model, as corporate America sought to capitalize on the image and music of old school rap. Kids growing up at the time were sold the exciting image of tough and intimidating rappers like 50 Cent, and bought it up in record numbers, making rap one of the world's biggest genres.
Though still an important part of hip hop, voices like 50 Cent's often displayed their confidence at the cost of demonizing self expression. "I don't display emotions. I have every feeling that everyone else has but I've developed ways to suppress them. Anger is one of my most comfortable feelings," said 50 Cent.
Although rap and hip hop culture has been heavily criticized for expressing chauvinism, this behavior was a way for Black males to assert their masculinity in a society that had emasculated them. "The sexist, misogynist, patriarchal ways of thinking and believing that are glorified in hip-hop and rap are a rejection of the prevailing values created and sustained by white supremacist capitalist patriarchy," says Bell Hooks in "Rap's Unruly Body: The Postmodern Performance of Black Male Identity on the American Stage," by Annette Saddik.
If rappers and hip hop artists ex- pressed anything that could be considered feminine or homosexual, their identity as a hip hop artist was questioned. Despite the importance of confidence and power in cultivating pride, this suppression of emotion. It's not up to music alone to cultivate an open culture, but the backlash that artists face when they express anything that could be perceived as femininity can make pioneering emotional expression an impossible task.
"If you're under 25, I truly believe Kid Cudi saved your life", says comedian Pete Davidson. Statistically speaking, the statement is an obvious overstatement, but Davidson, who says he would have taken his own life if not for Cudi's music, is one of many who think that rapper Kid Cudi's emotional honesty has changed rap forever.
It was Cudi who Kanye credits as the primary influence for his ground- breaking 2008 effort "808's and Heartbreak," in which he laid bare his grief following his mother's death. Even more impactful was Cudi's own breakout album, "Man on the Moon," in which Cudi addressed his struggles with depression and anxiety track after track. The album drastically outsold expectations, proving that vulnerability did not prevent stardom.
"Man on the Moon," pioneered the changes made to traditional hip hop and was the voice that many young rappers like Drake called on for inspiration. "I know that showin' emotion don't ever mean I'm a pussy," he raps on "Lord Knows."
Drake is constantly criticized for his neediness and objectification of women, but nevertheless challenges what it means to be a rapper in this day and age. "Masculinity is a large part of our society and a music genre like Hip Hop is a reflection of it," says Andresen. "It's a bad thing if it's privileging men at the expense of the women. It's a good thing if it's tearing down the system of White male patriarchy that marginalizes women."
Other artists like Tyler, the Creator, challenge rap standards in a very different way. "I'm a f***ing walking paradox" rapped Tyler on Yonkers, the rst single
off his first album. The line was his opening to the rap world, and as far as introductions go, few have ended up more accurate.
Since bursting onto the scene with his rap collective Odd Future in 2011, Tyler's revolted against every standard set in rap, most standards set by society, and many of the standards he set for himself.
With bright out ts, fantastical but expressive lyrics, and an overwhelm- ing sense of weirdness, Tyler shocked the rap establishment while attract- ing its audience. Their openness with oddity and insecurity made many fans feel that they finally had a place in hip-hop, but Tyler's use of the word f*ggot and his controversial statements may have pushed just as many away. Despite this, anarchical and expressive, Tyler, the Creator revolutionized the old rap regime with lyrics like "F**k your traditions… They're not mine/ See, we can be ourselves."
Tyler's friend and fellow member of Odd Future, Frank Ocean, released an open letter in 2012 revealing that
his first love was a man. Despite this, Ocean rejects the label as a queer artist, or even as bisexual. "I'll respectfully say that life is dynamic and comes along with dynamic experiences, and the same sentiment that I have towards genres of music, I have towards a lot of labels and boxes and sh*t," he said in response to questions about his sexuality in an interview with GQ. "I'm in this business to be
creative."
Tyler, the Creator himself openly referenced his sexuality in his 2017 re- lease of "Flower Boy," despite having hinted at his orientation in the years prior. Audiences noticed lyrics like, "Truth is, since a youth kid, thought it was a phase," from "Garden Shed," and "Next line will have em like whoa/I been kissin white boys since 2004" from "I Aint Got Time."
Other artists have spoken more openly about their sexuality with- in the music industry. Both rapper Young M.A. and musician and member of The Internet, Syd Tha Kyd have come out saying that they aren't straight, but reject labels foisted on their sexuality. "Do I look straight to you? Shit, you got your answer," says Syd tha Kyd in an interview with LA Weekly.
Other musicians have openly described themselves as gay and in- corporate queer dialogue into their music frequently. Kevin Abstract, a member of the rap collective and
self named "boy band," Brockhampton, opens up about his sexuality and queerness within the music industry on 2017 album Saturation II. "Why you always rap about being gay? Cuz not enough n****s rap and be gay," raps
Abstract on "Junky."
Despite the in flux of queer rappers and hip hop artists, coming out within the music industry is still im-ossibly difficult. "How many young women and LGBTQ identified people actually feel respected by them and feel safe when they participate in practices that diminish them?," says South Seattle musician Teddy Avestruz. "Be real just for a second. How many young men experience and suffer anxiety and depression everyday because they do not want to express their emotions around their "masculine" friends?"
As we move forward, hip hop will continue to change. "It will continue to evolve just as the other genre," says Andresen. "My hope is that it will continue to resist being co-opted by the system of White Supremacy unlike other music genre created by Africans and African Americans."
Issues like misogyny and homophobia, which used to be more or less swept aside, are now being confronted head on by the newest generation of artists. Some of these new artists are young enough to be in high school, like 17 year old Teddy Avestruz also known as alias Theomatic. Theomatic represents a generation of rappers who are speaking up like never before. "There are many artists rising up like myself, not only showing up with actual skill but having a strong message, I see a bright future." But he concedes that it takes more than just a mes- sage to create the kind of change he's seeking. "We need to have those difficult and uncomfortable conversations, educate others, and take action."
today artists at all levels of the music industry are working to combat rigid masculinity and white supremacy; vulnerably ex- pressing a sense of self and emotion in their music. Those already in the mainstream, like Jay-Z, Tyler, the Creator, and Frank Ocean, have made a point to challenge listeners more now that they're in the spotlight, while numerous lesser known artists, like Princess Nokia and Brockhampton, have built platform on combating misogyny within the music industry.
"To change what it means to be a man, and be manly and masculine. That's why I said it's OK to get your feelings hurt, it's okay to admit that, and it's okay to cry because men can do that too," says Kevin Ab- stract of Brockhampton. This is a lofty goal, but with statements like these, artists are laying the groundwork for a much more open and inclusive fu ture.