A Look Inside a Teacher's Library
Book recommendations from your favorite staff.
According to Garfield Social Studies teacher and track coach John Leslie, "A super important book is A People's History of the United States by Howard Zinn. That was the book that kind of exploded my head when I was about 17 and it got me actually interested in history and gave me a broader understanding of the country I live in. It changed my perspective on how to look at the world and America."
From Zinn's book, Leslie thinks people should learn to question everything, saying "I think a lot of times we're expected to sort of believe everything we read and I think it's important to be skeptical and to challenge preconceived notions about what we assume to be the truth.  I think that this book goes to great lengths to offer alternatives or counterarguments to things that we have for a long time just assumed to be true."
Although A People's History of the United States was originally published in 1980, a 35th anniversary edition was published in 2015 that covers events up until the present and includes a new introduction by writer and activist Anthony Arnove. It offers an alternative history to the one taught in most high school classes, focusing more on the experiences of minorities and oppressed peoples in the land we now call America, as well as those colonized by the United States.
Our current political climate is filled with discussions of systematic oppression and institutionalized racism, and Zinn's 784-page masterpiece goes to great lengths to explain the history behind these issues.
A new addition to Garfield's staff this year, Bethany Lidgard is our favorite and only French teacher.  As for what book she'd recommend?
"Night, by Elie Wiesel. It talks about really important historical things in a very deep and moving way."
She hopes students would gain a "deeper understanding of the world," from reading Wiesel's memoir about his time in the Nazi German concentration camps at Auschwitz and Buchenwald near the end of the second World War.
Wiesel was awarded the Nobel Peace Prize in 1986, and the Norwegian Nobel Committee called him a "messenger to mankind," stating that through his struggle to come to terms with "his own personal experience of total humiliation and of the utter contempt for humanity shown in Hitler's death camps", as well as his "practical work in the cause of peace", Wiesel had delivered a message "of peace, atonement and human dignity" to humanity.
Although Wiesel passed away last year, the book has continued to be an important part of Holocaust remembrance and education. Published originally in Yiddish in 1956, the story was an epic of revenge and anger, meant for Jewish readers.  Wiesel himself rewrote, rather than translated, the novel for French and English-speaking readers two years later, and those versions are much shorter and focused more on religion and the effects of trauma than anger or revenge.
Night, which deals with incredibly difficult subject matter in a beautiful and emotional way, is read in several 9th grade Language Arts classes at Garfield.  If your class never read it, or if you just faked your way through the assignments, it is definitely worth the read.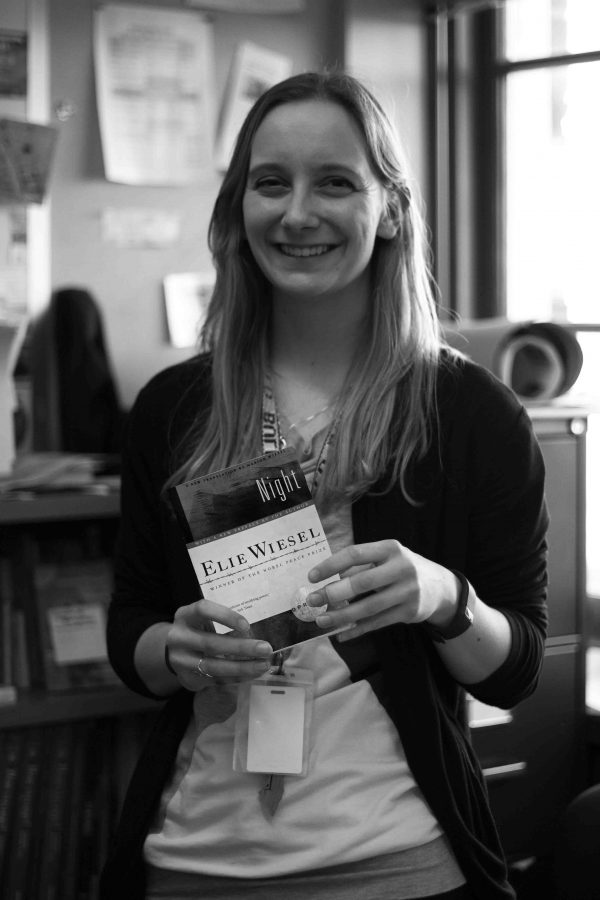 Despite what one would expect from a Biology teacher, Dawn Rubstello says,"I mostly read fiction, I don't read a lot of nonfiction."
She recommends the novel Cutting for Stone (by Abraham Verghese), and said that, "I found it really interesting, and it was written by a Stanford professor. I think its story would be really interesting for Garfield students. I read it about five years ago, and I think it was very well written."
Verghese's book, published in 2009, tells the story of two twin boys growing up in Ethiopia, and follows the main character Marion well into adulthood. The novel's adult characters are nearly all doctors, and it covers a wide range of interesting medical topics.
If Cutting for Stone doesn't sound like your cup of tea, even though it made it onto Barack Obama's list of summer reading in 2012, Rubstello also recommends The Count of Monte Cristo, saying that it "is a great book, I read it recently as an adult and I thought it had integrity and ethics in it. I would definitely recommend both of those books, they handle some difficult life questions."
The Count of Monte Cristo was originally published in 1844 by French author Alexandre Dumas, who also wrote The Three Musketeers. The story takes place just before Napoleon's return from exile, and deals with the story of a French man who is wrongly imprisoned, and builds a fortune in order seek revenge on those who put him in jail once he is released.  A timeless epic, The Count of Monte Cristo is sure to keep any reader on the edge of their seat.
Photos by Elliott Hoppe
Leave a Comment