Womxn's March On The World
4.6 million take to the streets.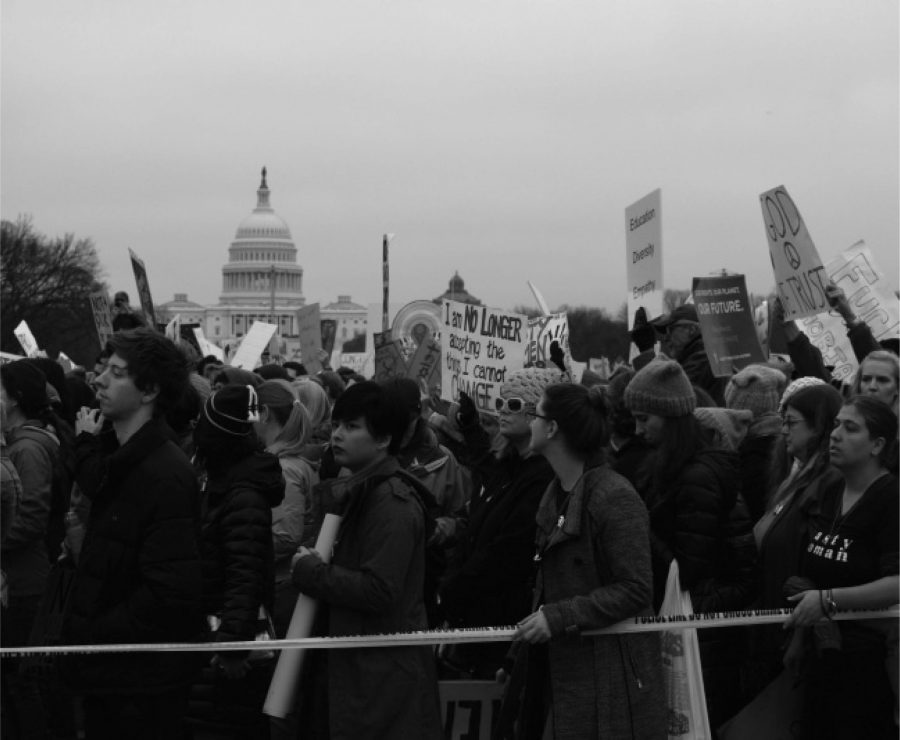 People from all over the country traveled by bus, train, car, bike, and foot to gather in the streets – faced by the daunting Washington monument. Just the day before, President Donald Trump's inauguration had been held in this very same place. But this was a new day. A roaring sea of pink flowed through the city, all heading to the same place: the Women's March on Washington.
This historical event, which attracted more than four hundred thousand people to Washington D.C. and over two million to sister marches worldwide, all began with a Facebook post. The night of the national election, a Hawaiian woman named Teresa Shook made an event page, quickly gaining local and national attention.  By the next morning, she'd already received ten thousand responses. In the following weeks, it gained attention as people organized marches all over the globe for the same day, in 46 states and 17 countries.
The march was preceded by a rally in the streets of D.C., featuring speakers like activist Gloria Steinem, mayor Muriel Bowser, and CNN commentator Van Jones, as well as many others.  While these speeches covered a variety of topics and interests, there was one clear theme: Trump's policies and appointed cabinet will not be accepted by the American people, and that activism has to continue past the current adrenaline and through Trump's presidency in order to block his future actions.
With an extensive and diverse list of renowned speakers, each speech or performance sparked positive uproar in the crowds. The stage, set between 3rd and 4th street on Independence Avenue, could be viewed by large monitors placed blocks apart.
Michael Moore, Academy Award-winning director and activist, spoke at the rally and pleaded the audience to take action beyond the march saying, "I want you to call congress every single day. Each of you have one representative in the house and two senators. And they have a phone number."
He then read the phone number to the Congressional Switchboard aloud, which prompted thousands of calls in the hours following the event.
Kamala Harris, California's newly elected Junior Senator, echoed the importance of continuing to stand up against oppression during her speech.
"We've got our work set out for us and it's going to get harder before it gets easier. This was a day for all of us to come together in our nation's capital to be seen, heard, and felt. Let's make today a beginning, let's buckle in because it's going to be a bumpy ride. […] Let's get to work," said Harris.
The importance of inclusion and intersectionality, the idea that multiple identities intersect to create a whole that is different from the pieces, were also stressed by many of the speakers.  "We live and breathe the understanding that justice cannot be for just us. We cannot be free at each other's expense or if any of us remain targeted. Our America includes all of us in our beautiful diversity. […] Our america needs us to build a better future," said Zahra Billoo, a civil rights lawyer and activist who spoke at the rally.
Billoo urged those who attended the protest to "interrupt racism," "commit to take action every day," and, "make resistance your lifestyle."
As the rally wrapped up, antsy crowds prepared to march. The masses turned around, and marched together toward the White House.
Despite the event's success there has been significant criticism of the Women's March movement, as people have seen it as exclusionary toward womxn of color and trans or nonbinary individuals who will be equally, if not more, affected by Trump's policies and those of the now-Republican majority congress.
"Pink p***y hats", worn by thousands of protesters, blew up on social media in the weeks leading up to the march. Los Angeles resident Krista Suh started the trend, for the purpose of making a statement while staying warm at the march. Soon, people across the country were knitting them for sale at coffee shops, boutiques, or for giving to their friends and family. Meant as a symbol of unity and a dig at President Trump's comments centered around "grabbing women by the pussy," these hats became divisive very quickly.
"By making a vagina the symbol of this movement, they're excluding so many people.  Not all womxn have vaginas, and not everyone with a vagina identifies as female," said one anonymous marcher who refused to wear one, "This is typical white feminism, ignoring any intersectionality and only catering to the interest of middle class cisgendered white women."
Janet Mock, a transgender woman and author, touched on the importance of intersectionality in her speech. "I cannot survive on righteous anger alone. Our approach to freedom need not be identical, but it must be intersectional and inclusive.," said Mock, "Just because we are oppressed does not mean that we do not fall victim to the same unconscious shaming and policing."
News reports have called this the biggest single day march in U.S. history. It still isn't clear how its palpable enthusiasm will translate into change in the coming months – and years of Trump's presidency, but this certainly was an important act of unity in the face of an uncertain future.
Leave a Comment