Purple Haze, Purple Reign
Undefeated boys' ultimate team accepts bid to Nationals.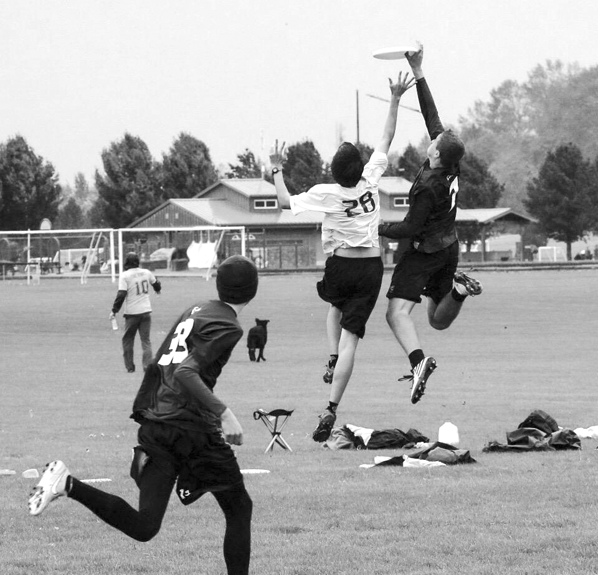 After an undefeated regular season, the Garfield boys' ultimate Frisbee team has accepted a bid to Nationals, an invitational for the top sixteen Frisbee teams in the nation. This is the inaugural year of Nationals, which replaced the former regional tournament system.
"We heard about this tournament all the way back in June of last year, so it's kind of been on our minds since then, but we had no idea how well we'd do and if that would even translate to getting a bid," said senior captain Tony Goss. "To be one of those [teams] is a huge honor, in of itself, no matter how well we do at Nationals."
Over the course of the season, Garfield, known to the Frisbee world as "Purple Haze", defeated many of its former rivals, including Nathan Hale, Franklin, and Cleveland. The team attributes its strength to trust and cohesiveness among its players, facilitated through extensive team bonding.
"The night before our [state] tournament, we all slept over at someone's house and had a good Drake session, where you get in the feelings," said Goss. "We got to know each other more as people and I think that really helps our team chemistry."
Purple Haze finished third in state after a dramatic semifinal loss to Lakeside, who Garfield has lost to in all three playoff matchups. Purple Haze came back from a five point deficit in the semifinals to tie the game at 10-10, but were unable to clinch the win.
"We started off pretty slow [with] pretty bad turnovers at the beginning of the game, which they capitalized on, so they took a big lead," said junior player Ben Kass-Mullet of the game. "But then we just really started grinding them into the ground and working harder than them and we came all the way back, and then they just had a couple lucky plays at the end."
Lakeside won the state championship, and has accepted a bid to Nationals. Senior captain Cameron Crawford described Lakeside as Garfield's "greatest enemy" and Goss spoke of plans to "beat them so hard they'll go home and cry to their math tutors."
The only other team that Purple Haze lost was Cleveland, in the Seattle Public Schools' Championship. Garfield had beaten Cleveland in all other encounters, and may face them again at Nationals.
"If we play Cleveland at Nationals, it will be probably one of the most interesting games," said Crawford. "We're comfortable with how they play, and that could make us be more lax or it could give us another level of energy."
Nationals present the opportunity for Garfield to redeem itself against Lakeside and Cleveland, but it also gives ultimate players a chance to play diverse teams from around the country.
"Personally, I've played a lot of ultimate outside of Garfield, so I've had the chance to travel to Minnesota and Canada and Oregon and some other places," said Goss. "But for some of the players on the team, who aren't as experienced and don't play as much, they've never had the chance to do anything like this. For those guys, I'm the most happy for, because they'll have an experience that's once-in-a-lifetime."
A drawback to the new tournament is accessibility. It costs $750 per player to go to Nationals, and the Garfield team, which is not an official school team, will have to fundraise extensively to ensure all of its players can participate.
"Our team comes from a lot of different backgrounds, just like most of Garfield. So we have some people who can for sure afford a trip to Nationals and [for] some people it's just completely out of possibility," said Kass-Mullet. "We need to fundraise so that everyone can go, and there's no way we're going to leave anyone behind."
Ultimate Frisbee can only become an official school sport through action at a statewide level. Currently, all ultimate Frisbee teams in Washington state can only become clubs at best, and do not receive school funding.
Purple Haze will compete in Nationals in June, after the rest of the country has had their ultimate seasons. The Garfield girls' ultimate season is also in the spring, and they have the possibility to receive a bid to Nationals as well.
Leave a Comment