Fashion Passion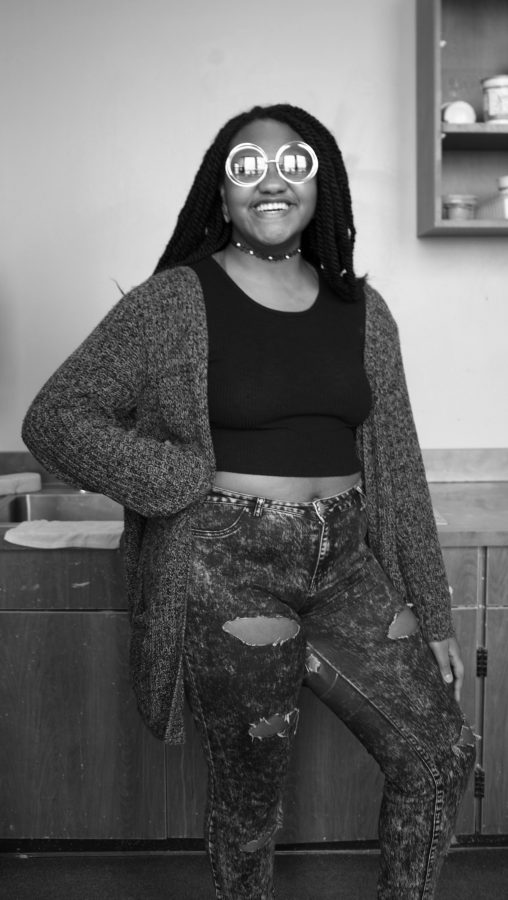 Not many people can make bright florals, strong stripes, and acute polka dots work harmoniously. That's what makes Garfield senior Rheana Dale so unique. Pairing bright graphic tees with citrus-shaped earrings, Dale manages to mix these seemingly contrasting items in an effortless fashion, creating a stunning statement style.
"My style is hipster/streetwear/chic," states Dale. "It's very versatile, I'll wear it if it looks different." Although Dale is now known by her unique mom jeans and grid patterned socks, this wasn't always the case. "My mom used to dress me when I was younger. I was really bad at dressing myself."
It wasn't until Dale moved from South Carolina to Seattle in 8th grade that her individualistic style began to form. "Through 9th, 10th, 11th, and 12th [grade] I started to experiment with different colors and wearing different things that made me feel happy."
"I choose the color that I want to wear the most and then group everything else together." When picking which pants to pair with which top, and what hairstyle to match with what pair of shoes, Dale chooses a staple color and dresses in shades of it.
To Dale, fashion means a lot, as she feels it is the major thing that sets her apart from others. She takes pride in her unconventional style."A lot of the times when I wake up I'm like, 'How am I going to do my makeup?'" Says Dale. "'How am I going to make sure that I look absolutely different from everyone else I encounter today?'"
Dale can be spotted in the hallway wearing her classic octagonal-framed glasses and baby pink fluffy pom-pom earrings. "I just really love poofs and fuzz," she shares. Dale often scores stylish finds at thrift stores, "I absolutely love Goodwill, I got some suede pants from there. They are so nice!" She also likes to shop off the online site, Etsy. "I imagine things in my mind and think 'Oh that would be cute!' and then look it up on Etsy."
To Dale, fashion is more than just self-expression, it's liberating. "It makes me feel really empowered to dress the way that I do." She finds style inspiration from numerous sources, one being 2016 Garfield graduate Hera Ford. After growing close to Hera, Dale's view on the world of fashion was completely changed. "[Hera] totally flipped my perspective; fashion doesn't have to be matching, you can wear whatever you want."
Ripped jeans, oversized tees, and color-coordinated sneakers. These are some of many items in GHS senior, Joshua Perine's closet.
"Fashion means expressing yourself in a different way." Shares Perine. From a young age, Perine was interested in developing a unique wardrobe. As he got older and started truly delving into the world of fashion, he looked to his roots for inspiration, "My mom always knew how to dress, so she kinda passed it on to me." With his mother's inherited taste and his personal eye for style, Perine has created a stunning statement wardrobe for himself.
"As of right now, my style is basic but different at the same time." Says Perine, who blends current trends with his individualistic fashion approach. Perine often personalizes his clothes by changing the item itself to better fit his style. "I make my own ripped jeans […] I just cut them up with scissors and wash and dry them." When Perine's not putting scissor to fabric, he likes to shop at name-brand stores, such as H&M, Pacsun, and Forever 21. He believes that anyone can create a statement wardrobe without exhausting their wallet, "A lot of people think fashion is just spending thousands of dollars on a pair of pants," shares Perine, "but I think you can have fashion by just wearing a $5 shirt from Goodwill and putting some bomb shoes on to go with it."
Perine's daily outfit inspiration often comes from within, "If I wake up thinking 'today is a slay day', then I slay." However, when Perine's having a 'what to wear?' moment, he looks to global style icons as models for his own outfits. "There are two people," shares Perine. "Kim Kardashian and Kanye. I love how both of them dress, especially Kanye […] it's just really different." Some of Perine's favorite items are long oversized tees, a recurring style in Kanye West's fashion line, Yeezy.
Perine has a love for fashion that translates to more than just his own wardrobe, "I love dressing people up and putting stuff together." Although he has a clear eye for style, he may not pursue a career in the industry. "On the side for sure. It's not something I would want to do full-time." No matter the path he follows, Perine will no doubt stun the style world with his unique fashion approach.
Leave a Comment