Browsing for Bok Choy
A guide to Seattle's Asian Grocery Stores.
While the "Asian" section of western grocery stores has expanded greatly in the past few years, there is still no better place to find the widest variety of Asian foods than Seattle's dedicated Asian grocery stores. From the relatively upscale "urban convenience" M2M to the vibrant atmosphere of Lam's Seafood Market, these grocery stores are celebrated pillars of AAPI communities around Seattle. Here at the Messenger we've made a small guide featuring the diversity of Seattle's Asian groceries.
Uwajimaya:
A staple of the Chinatown-International District community, Uwajimaya is the centerpiece of the mixed-use community Uwajimaya Village. The village includes Uwajimaya itself, residential apartments above it, a food court, and a Kinokuniya bookstore. While the food court is a fun place to eat and the bookstore has a large variety of books as well as huggable stuffies, the grocery itself is the main attraction. Uwajimaya stocks something in every conceivable category of Asian food. Traditionally western foods that can be found in other groceries can be found in Uwajimaya, like sandwich bread or chinook salmon. However, the aisles are dominated by Asian foods such as bitter melon, chili oil, tofu, and pineapple cakes. One highlight is the tanks of live seafood, with tanks of clams, oysters, dungeness crab, and tilapia for a customer to choose from. 
Mekong Asian Supermarket:
Mekong Asian Market is located on Rainier and Walden St, just south of Franklin High School. While fairly small, Mekong is tightly packed with an abundance of items. Right by the entrance, rice is piled high in stacks upon stacks of bags. Further into the store, the small aisles are dwarfed by shelves of absolutely everything. Racks of cookware are arranged next to freezers of fish and stacks of spices are next to assortments of fruit. The prepared foods section is fairly small, though a large array of delicious spicy green papaya salads are available.
Lam's Seafood Market:
Located on S King St in Little Saigon, Lam's Seafood Market reminds of the chaotically bustling open-air markets found all around Asia. While having no doors technically qualifies it as open-air, the market is air-conditioned and well-organized. There is a small service bar for drinks in the back, but hours may vary. The front produce section has absolutely everything, from sweet potato leaves to white-fleshed guava. Moving towards the back of the market, tall shelves are stacked with an enormous variety of Asian sauces, spices, and other shelf-stable goods. At the very back, a counter full of seafood is announced by the presence of a very pungent smell. This counter has the traditional salmon and snapper, but also varieties of clams, oysters, lobsters, shrimp, and crabs. 
M2M:
Part of the Korean-American supermarket chain H-Mart, M2M is situated right next to the Capitol Hill Light Rail Station. When walking into the main entrance, a customer is warmly greeted by a bakery full of pastries, milk breads, and an Among Us styled chocolate cake. To the left, the main store includes aisles of meats, frozen foods, packaged snacks, and drinks. Produce can be found in the back, though it is mostly a selection of fresh fruit. H-Mart styles M2M as an "urban convenience" store. Accordingly, the snacks and prepared food sections make up much of the store. The prepared meals work great in a rush, but don't come close to giving the dishes any semblance of justice.
Leave a Comment
About the Writer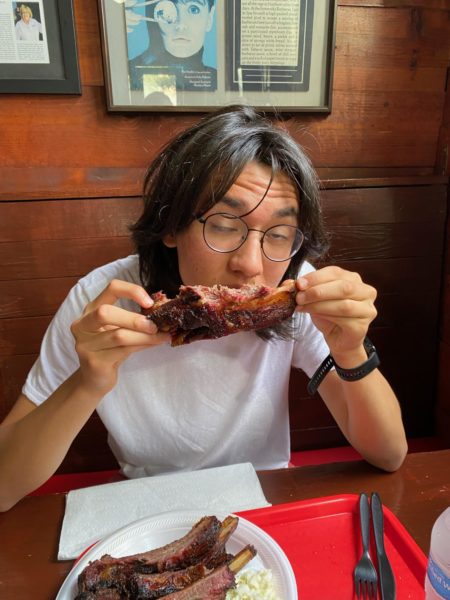 Leo Carlin, Business & NFO
Leo (he/him) is a senior at Garfield, on his second year of the Messenger, and edits the NFO section while running the Messenger's business side. Leo enjoys...