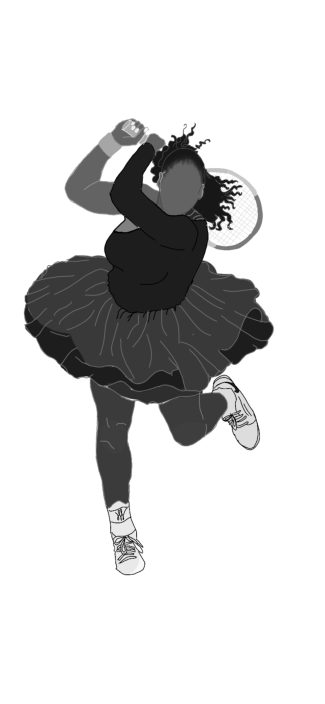 Lucy Gaines
Tennis – the international sport that draws a variety of people and styles to the court –  is arguably one of the only sports where competitors can truly express themselves through their uniform. With only two to four people on the court at once, players have a spotlight on them at all times. From its origin, tennis has been about tradition, but outfits have both evolved completely and stayed the same. "Fashion is part of a tennis player's identity," Garfield tennis player Ling Yang said. "Seeing people's personal style is lots of fun."
Early in the 1900s, the attire was all white. Women typically wore full length dresses, often with collars and long sleeves, with men wearing white pants and long sleeve white tops. Eventually the popularity of the tennis skirt rose, being paired early on with long sleeve tops and collars. Collars underneath v-neck sweaters and sweater vests were popular trends in the 1920s and 30s and have maintained their relevance, as polo tops are popular among tennis players today.
The lasting tradition of white attire is shown through the Grand Slam tournament Wimbledon, where all players must abide by the strict all-white dress code. With every decade, tennis attire has become more practical, and has transformed  into a form of self-expression. This change came as tennis developed from a leisurely activity into a highly competitive sport, especially as women began to play professionally around 1970. 
1970 women's tennis icon Billie Jean King could always be found sporting various white dresses with different embroidery and stitching patterns, along with sneakers and glasses. 
Influential figures such as Serena Williams and Naomi Osaka have made statements on the court with vibrant colors and unique textures. Williams has played in tutus, a pink suit, a full black catsuit, and even a denim skirt, leaving her fans in anticipation of future looks. Osaka has taken a different approach, using her spotlight to speak out on injustice by wearing face masks with the names of different victims of police brutality. She can be seen with colorful visors, skirts, and tank tops – a common combination that never disappoints because of its variety. Stars like Williams and Osaka can also have an important impact on POC youth and female athletes. "Clothing can encourage minorities to play tennis depending on who wears it and the message they give off," Yang said.
As tennis is a no-contact sport, it is acceptable for players to accessorize. Necklaces, earrings and wristbands are all extremely common. But possibly the most distinct accessory that sets tennis fashion apart from other high-intensity sports is the watches. So is it not a coincidence that Rolex has partnered with several large tennis events, including Wimbledon, Australian Open and US Open. Top players often sign contracts with luxury watch brands and get paid to wear their pieces while competing. In 2020, Rafael Nadal, top men's player, was seen wearing a one million dollar watch during the French Open. Headbands and visors are all also extremely popular. 
A significant part of tennis style is the ability for an outfit to be both timeless and fashion-forward, altered to each player's personal taste. It can be assured that in this year's matches new colors, patterns and looks will emerge from all of the fan-favorite players on the court.